Destiny 2 Reveals 2019 Road Map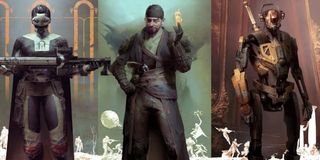 (Image credit: Bungie)
Bungie's Destiny 2 has had an extremely rough go of it over the last two years, much of it because of some monetization practices that turned off tons of fans when the game was trying to build up some momentum during the holiday season in 2017. Well, after a middling 2018 Bungie is already looking toward the future with a 2019 road map.
There's a ton of new content, events, updates, and expansions planned for Destiny 2 throughout the next year. All of this was revealed over on the official Bungie website, where there's a breakdown of what will be added to the game.
Bungie noted that the core philosophy for Destiny 2's design scope will be changing and that instead of doing new DLC packs, updates will be arriving more frequently and will consist of end game expansions, new weapons, new events, and new maps. All of this content will be included in the Annual Pass, which is a replacement for the traditional Season Pass, along with free seasonal updates.
So, between December of 2018 and February of 2019, there will be seven major free updates, including Iron Banner events and Crimson Days, along with a power increase and vanity rewards. Annual Pass holders will receive new Black Armory gear, new exotic quests, a new raid, and two new Black Armory forges.
Between March and May of 2019, there will be eight new free season updates, including more vanity rewards, a power increase, all new maps and private matches, along with new triumphs and lore books, all new rank rewards, an exotic quest, another Iron Banner event, and a special spring event. Annual Pass holders of Destiny 2 will receive Joker's Wild weapons and gear, a new gambit experience, special Xur bounty quests, Joker's Wild weekly quests, a new exotic quest, and new triumphs and lore books.
And finally, between June and August of 2019, there will be seven new free seasonal events, including another power increase, more vanity rewards, a new exotic quest, new triumphs and lore books, new rank rewards, another Iron Banner event, and special Solstice of Heroes event. Annual Pass holders will receive all new weapons and gear to loot, a brand new raid event, a new six-player activity, new triumphs and lore books, and two special events that have yet to be revealed.
This all fits in line with Activision's new developmental policy for Destiny 2 which came after the game failed to meet profit margins, even after the highly lauded Forsaken expansion pack was released earlier this year.
The game has been on a downward spiral shortly after its release last year, where gamers found the endgame lacking, and the content updates rolling out too slowly. This was further compounded with Bungie constantly tweaking the loot boxes and microtransactions, as well as limiting XP scaling to try to convince hardcore gamers to purchase XP pots. This all backfired, however, and many hardcore fans gave up the game and said they were moving over to Warframe.
Several more months of negative feedback surrounding Destiny 2's cash shop also didn't help, leading to more players pulling out. By the time Forsaken released a lot of gamers had already given up on the game. Bungie is now attempting to right the ship by producing a lot more content in a shorter amount of time, while also hosting more events and having a publicly available calendar to keep the community updated on new content. You can look for this renewed effort from Bungie to get underway starting December 4th.
Your Daily Blend of Entertainment News
Staff Writer at CinemaBlend.