Anthem VIP Demo Update Admits 'Rocky' Start, Dispels Rumors, Plans Ahead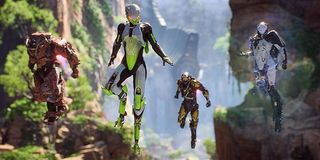 The Anthem VIP demo hasn't exactly gone off without a hitch but, according to BioWare Head of Live Service Chad Robertson, the team is working to address the biggest concerns as soon as possible.
In case the terminology is throwing you for a loop, the "VIP demo" for Anthem was only open this weekend to folks who pre-ordered the game or were a member of EA Access or Origin Access. That velvet rope was actually pulled aside quite a bit more than that, as VIP participants were granted three codes to give to friends. Also, literally hundreds of additional codes were passed out from various websites, influencers and the like throughout the weekend.
In other words, and as reiterated in the recent update from Robertson, the teams at EA and BioWare were well aware of the fact that this was going to be a massive demo and were prepared for exactly that.
But when everything came tumbling down the moment the demo launched, the natural assumption from many folks was that the servers simply were not prepared for the number of people who were trying to play the game all at once. Robertson reiterates that was not the case, but rather some unanticipated problems popped up and started causing problems this weekend. These are exactly the kinds of issues betas and demos are meant to uncover so, hopefully, things will run more smoothly in the future.
Also worth pointing out is how prompt and open this response was. In instances such as what we saw in Anthem this weekend, it's not uncommon for a developer to simply tweet that they are aware of some issues and working to fix them. BioWare went a step further to give players a better idea of what went wrong, and that openness typically goes a long way toward creating some goodwill within an online community.
On top of the initial platform connection issues, probably the biggest gripe this weekend concerned infinite loads within the game. As of this writing, I've probably only played a grand total of two hours of the demo (not from lack of trying) due to this issue. Basically, at any point in the demo you are greeted with a load screen, there's a chance you will just be stuck there indefinitely. The only option after that is to reboot the game and pretty much start whatever you were doing from scratch.
According to the update, BioWare is working on these issues and might have some of them addressed before the VIP party ends this weekend. Otherwise, the aim is to have fixes ready to roll by next weekend, which is when the Anthem demo will be open to everyone. After that, the team will only have a few weeks left to get ready for the Feb. 22 launch.
Staff Writer for CinemaBlend.
Your Daily Blend of Entertainment News
Thank you for signing up to CinemaBlend. You will receive a verification email shortly.
There was a problem. Please refresh the page and try again.