The Anthem VIP Demo Apparently Has A Lot Of VIPs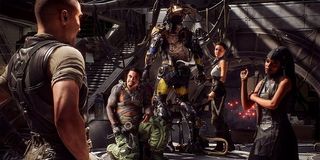 The Anthem VIP demo went live today and, based on early reports, folks are having a hard time actually getting into the game. According to EA, that's due to the fact that too many people have piled onto the server all at once.
The Anthem VIP demo has been pitched as a somewhat limited affair. There was an alpha hosted last December but, this time around, participation has been limited to folks who either pre-ordered the game or are members of EA Access or Origin Access. It looks like that figure is higher than EA anticipated, as the servers immediately crashed once the demo went live at 12 p.m. ET, Friday.
According to the most recent update, players have slowly but surely started to trickle into the game, with EA customer support's official Twitter feed offering updates.
It's nice to hear the team is working to get things in order, but this still comes as something of a surprise, all things considered. To be clear, we're well aware of the fact that this is exactly why demos like the VIP run exist. The whole point is to give EA and BioWare an opportunity to stress test servers and see if any unexpected bugs or other issues pop up under the weight of a more limited audience.
But, still, EA knows how many people subscribe to the Access programs and how many people have pre-ordered the game, so they should have had a pretty decent estimate concerning the amount of server space they'd need to get the VIP demo off to a smooth start. Then again, maybe they planned for too little initial space intentionally, just to test how the servers would crumble under the load. If they force the bridge to collapse early, they might have a better handle on needed problem solving down the road.
Either way, it looks like they're figuring things out pretty quickly, so, hopefully, everyone will be able to log in and actually take part in the demo soon. As a reminder, this VIP demo is only running through the weekend, but plenty of websites and social media feeds are giving away codes for access, so keep your eyes peeled if you're not currently a "VIP" but want to give Anthem a gander.
Or, you could just wait a week! Starting Friday, Feb. 1, the demo will be open to all comers. If you're in no particular hurry, feel free to download the demo now and wait until next week to jump in once EA has worked out more of the kinks.
As a final note, there are also reports of a never-ending load screen slowing down some players once they get into the game. According to EA, the current solution is to pull an IT Crowd and simply "try turning it off and on again." If you're still having issues, it sounds like your best bet is to just walk away for a while and try again later.
Your Daily Blend of Entertainment News
Staff Writer for CinemaBlend.