2Player: Will Destiny Alter The FPS Landscape For Good?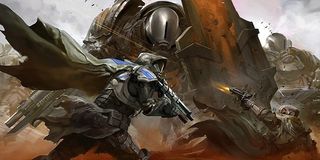 Destiny is less than a month away from launching, with the team at Bungie primed to introduce the gaming masses to a first-person shooter unlike anything the genre has ever seen before. In preparation for the big event, Gaming Blend's Katy Goodman and Ryan Winslett got back together to discuss the recent beta and what effect it had on their expectations for the final game.
How did you spend your time in the Destiny beta?
Katy Goodman: To be honest I spent a lot of time playing around in the Tower with friends. I love the little gems hidden there, and really hope there are more found throughout the game. In fact, I hope there are more areas like the Tower in general. Unless they make the fire teams bigger, it seems like the Tower is the only way to play with more than two of your friends, unless you are in the Crucible. We found the soccer and volleyball, played around with those a bit (largely inspired by the World Cup), and then messed with the fan mechanism on top of the mail building. We also played the Crucible and decided to see if the power of dance could perhaps spark a peaceful cease-fire with the opposing side. Let me just tell you how useful dancing is during PvP in that it's not at all.
Ryan Winslett: Wow, our experiences couldn't have been any more different. Then again, you did play in the Alpha and probably got your "I'm a serious space marine trying to save the world" moments out back then. Which is to say, that's exactly how I played the Beta. I went through all of the available missions, killed the massive bug robot in the Strike mission a handful of time and poured an uncomfortable number of hours into the competitive multiplayer.
I did spend a bit of time in the Tower, though, joining the occasional dance party and, yes, playing with the volleyball. What really surprised me, though, was how much time I spend in Explore mode, just stomping around Old Russia for fun and profit. I took on the occasional mission but, for the most part, I enjoyed just getting to know the ins and outs of the maps, looking for dynamic events and helping random strangers whenever they wandered into a big shootout. I think my in-game clock had me at around 10 or so hours in Explore alone.
What about the beta did you enjoy the most?
Katy Goodman: The combat. The UI. The ability to play with my friends. Really the same things that caught my eye in Alpha. The Crucible is addicting, and I think they did a great job balancing the different classes for combat. I also love the big strikes, which make the game feel like a true MMO. But I'm still waiting for larger fire teams, *cough* Bungie.
Ryan Winslett: Yeah, I'm going to go with the combat, too. The Destiny beta was far more polished than I expected and everything about the game felt very dialed in, but that goes double for the actual combat mechanics. From shooting the guns, to picking up loot and ammo, the using my various abilities, everything was silky smooth. I also liked that, as I returned to some areas, the enemy configuration (number and locations) tends to change, so I never walked into a room and knew exactly who was going to be where. That made the shooting feel more interesting.
Also, playing as a Hunter, I have to give an extra nod to my combat knife. Not only does it feel pretty awesome to shove that thing into an alien's face as my regular melee, but few moments in gaming have made me feel as empowered as throwing that thing and landing a headshot, resulting in a death. The animation, the sound and the impact all felt rad as hell.
What areas felt weak in comparison to the rest of the beta?
Katy Goodman: Having to recover the same ground a multitude of times really got me, especially after playing the same content in the Alpha for two different characters. The quests seem to overlap with each other a lot in terms of location; the world isn't big enough for the environments to seem different. Again, this is a tiny chunk of the game, but still concerns me.
The small fire teams are what really killed it for me. The overall game is great. The narrative is beginning to show its skin and the PvP is already on par with Halo. But with the smaller fire teams I began to realize that the game didn't feel that far off from Borderlands with PvP. Sure, you run across different players, but aside from running around with randoms there is little way to interact with them unless they are in your party. Every time I played, I'd hop on with about six of my friends. For a while we could divide up the groups and do Strikes, but eventually we got to a point where we all wanted to play co-op together.... and there was no way to do that unless we were kicking a soccer ball around in the Tower. For the big strike quests, I really think big teams could make it exponentially more fun.
Ryan Winslett: Again, this is showing how differently we play games. I typically prefer to fly solo and, when it is necessary to grab some teammates, I'm perfectly happy to join a pair of randos in order to TCB. The bigger Strike missions will allow for six players, though, so that should help party animals such as yourself. But yeah, it would be a cool feature to allow larger groups of friends to more easily drop onto the same overworld maps. As for the size of the map, i still am having trouble with that complaint. Yes, missions unfortunately overlap in certain areas from time to time, but after spending so many hours exploring, I feel confident in saying that the Old Russia map is a pretty huge chunk of land. I'm hoping future missions (perhaps through DLC) will utilize some of those areas the main story never takes you to. Then again, I also like the exploration being its own reward, so we'll see.
I've talked about it before, so I won't harp on it too long here, but the lack of communication is pretty heartbreaking. In a game that's supposed to feel social, Destiny was damn near silent. Again, I think the fix to this would be a text chat log. It doesn't even need to be on the main screen, just something that you can bring up and join at your leisure that's limited to whatever map you're on. People could more easily find players with common goals, chat about the game, share strategy and secrets, etc. When Bilbo420 randomly invites me to join his party, I have no idea what kind of person he is or what kinds of missions he wants to go on. It's a bummer.
Does your post-beta opinion of Destiny differ from your pre-beta opinion?
Katy Goodman: Not really, though with the tid-bit of exposition they added, I'm looking forward to learning more about the story. Bungie is pretty good at fishing with narrative, tossing out the bait. I played the Alpha and they were almost the exact same, outside of that and the Moon level... which I sadly didn't get to play. Still excited about most things. Still concerned about some.
Ryan Winslett: My answer to this one is a big fat "yes." I was mostly uninterested in Destiny through this year's E3. Based on trailers alone, I couldn't get a real feel for what made the game different and, at this point, playing another FPS that looked, for the most part, like its peers didn't really appeal to me. I read up on the game and we had a chat before diving into the beta, though, and I was finally starting to see the big picture.
Now, I'm completely sold on the game. I see what sets it apart from the pack and, more importantly, I see the room, and a desire from Bungie, to grow and keep evolving into something bigger and better. I've reached a point where I'm having trouble starting any new games because I know that, if I don't finish them before Destiny launches, my chances of returning to them anytime soon are very, very slim.
There are a lot of shooters on the market these days. What does Destiny do to differentiate itself from its peers?
Katy Goodman: I feel like there have always been a lot of shooters on the market. What's different now is that those shooters are all trying to break from the canon of the genre.... by using MECHS. Because who doesn't love mechs and high-brow technology?
I think where Destiny is going to differentiate itself is with its social aspect and overall mythology. Being able to interact in a non-linear world cooperatively with friends adds an absurd amount of replay value to a title (I think I've said something about that in comparison to a game like Titanfall). Albeit linear, there is no way I'd play through Diablo III more than once. But because my friends and I play together, they finally convinced me to work up to Inferno mode. I've played the same thing almost four times now. I'm bored of the game. And yet I have to get to level 60. Blending aspects of an MMO, fun armor, gorgeous UI, and adding that competitive edge in PvP makes it a hybrid. In fact, part of me is reluctant to even put Destiny in the genre of an FPS game, which is what it is by definition.
Ryan Winslett: I think you've hit the nail on the head here. Destiny is a hybrid, pulling in aspects of several different genres in order to make something that feels fresh. Its bits and pieces may not be all that different from other games, but the way Bungie has plugged them together has made a Voltron-esque gaming experience unlike anything we've seen before. As much as I'm having trouble getting excited for the the new Call of Duty and Battlefield games, I'm at least head-over-heels for the fact that both developers are clearly trying to change up the formula a bit. Maybe they won't nail it with Advanced Warfare or Hardline, but at least they're trying something new.
Even more important that that is the fact that all of those various aspects present in Destiny have been done, on an individual level, so damn well. Nothing about Destiny feels half-assed and every one of the game's major components (Explore, Campaign, The Crucible, Strikes) feels like it has been carefully crafted to appeal to gamers who traditionally enjoy those specific types of modes. It can be all things to all shooting fans and, for those who enjoy all of those different modes, it's just icing on the cake.
Staff Writer for CinemaBlend.
Your Daily Blend of Entertainment News
Thank you for signing up to CinemaBlend. You will receive a verification email shortly.
There was a problem. Please refresh the page and try again.