5 Biggest Improvements In Madden 16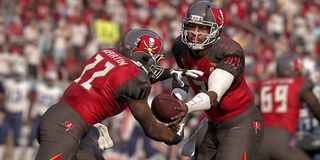 The Madden series is often accused of not changing from year to year. However, most long-time players know changes are happening but they're generally more subtle than you'd expect.
Madden 16 is no exception. It makes a number of key revisions but you wouldn't notice unless you're a regular player. Here are some of the bigger changes:
Reworked Penalties
Penalties have long been a part of Madden but EA wants to make them more realistic niow. In Madden 16, all players will have a new Penalty trait that determines how likely they are to commit penalties. For example, a player with a reputation for being overaggressive like Ndamukong Suh will end up costing their team more yards than the average defensive tackle. Your strategy will also affect your chance at penalties. Cornerbacks told to bump receivers and offensive linemen in goal line format will get more holding calls. If you're tired of penalties ruining your game, you can turn them down - or disable them altogether - with a series of sliders.
Improved Quarterback A.I.
Playing against the computer can get dull when the quarterbacks all act the same. EA has fixed through more detailed A.I. that reflects that variety of quarterbacks in the game. A mobile quarterback will now behave differently than a pocket passer. On top of that, EA has made passers more aware of the pass rush and better at managing the game. That's great news for those of us too scared to play online.
New Pass Defense Options
The Ball Hawk feature allowed players in past years to quickly switch to the defender nearest the receiver and try to make an interception by pushing a button. The risk was that you could give up a pass by going for the pick. Madden 16 adds a second option called Play Receiver. You can push a button to focus on hitting the receiver instead of going for the ball. This increases your chances of disrupting the catch but prevents you from getting the interception. Your cornerbacks and safeties will also now benefit from a new adjustments system for the defense that makes calling audibles quicker.
Overhauled Catching System
Receivers, like defensive backs, will have new strategic options when the ball is in the air. You won't just push the catch button in Madden 16. Instead, there are three different types of catches. The RAC (run after catch) option makes your receiver focus on running down field and catching the ball in stride. While this can result in big plays, you're also more susceptible to dropping the ball or having the receivers knock the ball away. For aggressive catches, players come toward the ball to catch it at a higher point. This is also a risky play but it's a good way for tall, high-jumping receivers to box out a defensive back trying to get a pick. If you want the receiver to just focus on catching the ball at the expense of extra yards, the possession catch is the best option.
Enhanced Skills Trainer
Skills Trainer, the in-game tutorial for Madden 16, has been updated to teach players all about the new passing and coverage systems. It also gives players a better understanding of how the run game works. It shows you the most common types of running plays and how you should follow blockers in each scenario. The Skills Trainer also helps you learn when to flip a run based on defensive formations. This should make the tutorial much more effective at easing players into competitive Madden.
Staff Writer at CinemaBlend.
Your Daily Blend of Entertainment News
Thank you for signing up to CinemaBlend. You will receive a verification email shortly.
There was a problem. Please refresh the page and try again.