5 Fallout 4 Mods That Need To Happen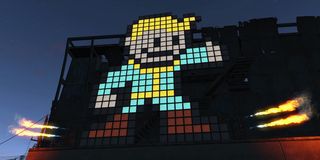 Fallout 4 will allow PC gamers to create their own mods and then share them across all platforms. These fan creations could add hours and hours of new experiences to the RPG.
While I'm sure modders will end up truly surprising us with their creativity, there are certain ideas I really hope they pursue. Here are five mods that could seriously enhance Fallout 4:
Hardcore Mode
In Fallout: New Vegas, Obsidian Entertainment included a Hardcore Mode that seriously ramped up the game's difficulty. It required players to eat and drink to survive. Healing items restored hit points over time rather than instantly. Ammunition weighed players down so they couldn't stockpile an impossible amount. Companions could be permanently killed rather than knocked unconscious. It made New Vegas feel like a completely different game. Bethesda hasn't said whether they'll be bringing back Hardcore Mode for Fallout 4. If they don't, though, I really hope some modder does.
Macho Man Deathclaws
One of the most entertaining mods for Elder Scrolls V: Skyrim gave dragons the face and voice of pro wrestling legend Macho Man Randy Savage. There are no dragons in Fallout 4 obviously so the job of imitating Macho Man will have to fall to Deathclaws, the mutant chameleons stalking the wasteland and killing everything in sight. The size and speed of Deathclaws makes them frankly terrifying to fight but at least if they had Macho Man's soundbytes they'd make us laugh before killing us horribly.
Highwayman
Fallout 2 let players use a beat-up car called the Highwayman. This car let them quickly traverse through the wasteland and also gave them a mobile storage option. It would be great to have a car for our journeys through Fallout 4 as well. The game world sounds enormous so we could really use a speedy way to explore it. Being able to avoid enemies roaming the wasteland - or simply run them over - would be cool, too. Adding a drivable car to the game could be a tall order, though, if the world isn't designed with vehicles in mind.
Co-Op
Like vehicles, cooperative multiplayer might be a pipe dream for Fallout 4. It would require some serious time and effort on the part of modders. Who hasn't dreamed of teaming up with a friend in the wasteland, though? It would be really entertaining even in a limited context. Maybe a second player could hop into the game and control the first player's NPC companion?
Survival Mode
Bethesda has talked a lot about the building system of Fallout 4, which lets us construct a custom base. Why not give us a way to put this base to the ultimate test? A survival mode mod would let players call down increasingly difficult waves of enemies on themselves. This sort of experience would test not only our combat skills but our ability to design an effective base. It would also further justify the time that players spend creating and tweaking their headquarters.
Staff Writer at CinemaBlend.
Your Daily Blend of Entertainment News
Thank you for signing up to CinemaBlend. You will receive a verification email shortly.
There was a problem. Please refresh the page and try again.