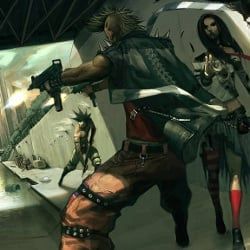 Today Realtime Worlds and EA firmed up the launch details about PC action MMO APB. They've announced when it will go live in North America and Europe and how much it will cost.
APB hits North America on June 29th, mainland Europe on July 1st, and the UK on July 2nd. The game costs $49.99/£34.99/€49.99 and can be purchased digitally or in stores. It allows you to play 50 hours of "action gameplay," as well as unlimited time in the social districts where you can customize your character, trade for new items, and chat with other players.
You have a few options for extending your game time. You can purchase 20 more hours for $6.99/£5.59/€6.29. If you think you're a more long-term player, though, you can sign up for a 30-day subscription for $9.99/£7.99/€8.99. Discounted rates will be offered for players who purchase 90-day or 180-day subscriptions, but the exact numbers weren't released.
Game time can also be purchased with RTW points. Upon purchasing the game, you're given 100 RTW Points. You can earn more by selling goods on the in-game marketplace.
Your Daily Blend of Entertainment News
Staff Writer at CinemaBlend.