Activision's Bobby Kotick Plotted Scheme To Get Rid Of Zampella, West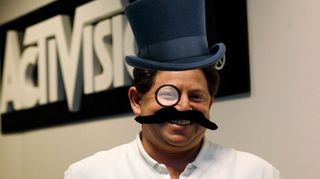 I tell you the honest truth, this whole (stupid) legal battle between former Infinity Ward heads Vince Zampella, Jason West and Activision has turned into the makings of a ridiculous, over-the-top cyber spy-thriller.
New documents leaked to Giant Bomb reveal in a deposition that Bobby Kotick mastermind a scheme to get rid of Zampella and West by having the director of IT tap their phones, track their e-mails and spy on their workstation assets.
The plot was initiated under the codename "Project Icebreaker" with the directive to indirectly fire both West and Zampella because allegedly their egos were getting too big and Activision didn't want to have to deal with them anymore. In other words, they probably wanted to exercise creative ingenuity and that would break up Activision's "Project Rehash" for Call of Duty and Kotick wasn't going to let anybody mess with the money attached to "Project Rehash".
Anyways, without getting too knee-deep in the legal jargon...Activision's IT director Thomas Fenady mentioned in the deposition that he was tasked with spying on West and Zampella from former chief policy officer, George Rose. The objective was pretty simple, he had to Mission Impossible his way into the workstations, email and phones of West and Zampella to find something incriminating. Kotick also used his Evil 'R Us abilities to presuppose that the former Infinity Ward heads were potentially in talks with Electronic Arts, an intuition that later turned into its own court case, but was recently settled.
Fenady, who left Activision in 2009 and now works at Warner Bros, further states that "Project Icebreaker" was going to go as far as potentially staging a mock fire at the studio in order to get West and Zampella away from their stations in order to infiltrate their private work quarters. However, Fenady admits that the attempts all failed.
Rose is also to have allegedly told Fenady in the deposition to do whatever he needed to do to get the job done, but...
If it sounds like an excerpt from a piss-poor script for a James Bond movie that just couldn't get green-lit, you're not alone. The entire thing is so ludicrous that a commenter on GamaSutra aptly said that "We're getting into the mustache-twirling zone." He forgot to add that it comes with a side-order of a top-hat and monocle.
That line above about Rose telling Fenady not to get caught seems like it could be used in a movie, with Fenady saying something cheesy like "If it doesn't work, promise me you'll take care of my family..." and Rose smirking, with his hand on Fenady's shoulder, responding with..."Tom, you can count on me. Don't worry about it, your family is already taken care of. You can trust me."
Now it took me a while to get through the reading because I kept laughing. I mean, here it is we've been so focused on EA's CEO John Riccitiello potentially charging microtransactions for swapping clips or reloading a gun as well as EA living up to being the Worst Company in America, that many of us forgot why we used to shutter at the mere mention of the name Bobby Kotick.
Of course, in the end, George Rose denies all of what Thomas Fenady says, except for the fact that "Project Icebreaker" did exist. He admits that there were probing measures in place to potentially spy on West and Zampella but he tries to gloss over the issue more-so as a non-issue.
The whole thing is a farce for as far as business ethics go, and from the looks of it Activision really is coming off as looking like the bad guys in this case, especially with their counter-lawsuit involving EA.
At the moment, Vince Zampella and Jason West are stationed at Respawn Entertainment under EA, working on an undisclosed project. The trial of West and Zampella versus Activision begins on May 29th. You can check out the full depositions and legal work over at Giant Bomb.
Staff Writer at CinemaBlend.