Alan Wake System Requirements Aren't Very Scary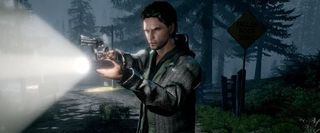 Soon Remedy Entertainment will release a PC version of Alan Wake. This weekend the developer offered up minumum system requirements and, unlike the game, they will not make the hair on the back of your neck stand up.
OS: Windows XP, Windows Vista or Windows 7
PROCESSOR: A dual core processor is required: AMD: Athlon X2 2.8GHz, Intel: Core 2 Duo 2GHz
MEMORY: 2 GB
HARD DRIVE: 8 GB
VIDEO CARD: DirectX 10 compatible or later with 512MB RAM
AMD: ATI Radeon 3650, 4450, 5550, 6450 or higher (per series)
NVIDIA: GeForce 8600GT, 9500GT, GT120, GT430, GT520 (per series)
SOUND CARD: DirectX 9.0c compatible
INPUT: Mouse and keyboard, Xbox360 controller also supported
"We are still finalising the optimisations and graphics scalability, so some details can still change," warns Remedy. They add that for a "solid" performance, you should get a quad-core CPU and a graphics card with roughly a 2000 3DMark Graphics Score. Requirements for max settings are even vaguer; they simply recommend a "top of the line graphics card and GPU."
The PC Wake supports 3D as well. Remedy says that they've tested Nvision 3D in-house and that while it works well, it's very performance-heavy. No word yet on whether AMD HD3D works with the game.
A couple fan requests didn't make the cut. You won't have the ability to save anywhere; instead you'll be restricted to checkpoint saving like Xbox 360 gamers were. Furthermore, mod tools won't be included with the game.
"Unfortunately Remedy is not planning to release the mod tools. The tools are a lot more complex than they were with the Max Payne games, and are based on many 3rd party commercial tools like Autodesk 3d studio max. Additionally they have been integrated to work with our Perforce asset repository and other internal services, and removing and re-implementing these features would be a lot of work."
Remedy will release the game through Steam in February.
Staff Writer at CinemaBlend.
Your Daily Blend of Entertainment News
Thank you for signing up to CinemaBlend. You will receive a verification email shortly.
There was a problem. Please refresh the page and try again.