An Angolan Rebel Chief Featured In Call Of Duty Is Suing Activision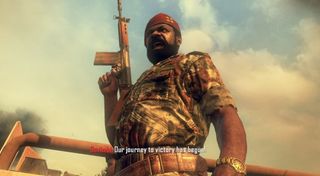 The family of the deceased Jonas Savimbi, a legendary Angolan rebel leader who was assassinated back in 2002, is suing Activision Blizzard for $1 million over the depiction of Savimbi in Call of Duty: Black Ops 2. Some of the kids of Savimbi claim that his depiction is that of a "halfwit" and a "barbarian".
The Guardian states that three of Savimbi's children who are located in France are using the country's strict defamation laws to seek reparations from Activision for damages to their father's depiction in the game.
Lawyers are attempting to take Activision to court over Savimbi's brief appearance in the campaign mode of Black Ops 2, where the player-character Alex Mason accompanies Savimbi into battle against the MLPA forces during a fictional recount of a battle during 1986. The game itself consists of multiple flashbacks and various scenarios consisting of battles throughout the Cold War, Vietnam and a futuristic war.
You can get a glimpse of the clips containing Savimbi courtesy of YouTuber Estradas de Luanda.
For those who have seen the clips, they mention that it doesn't seem as if Savimbi is depicted as a "half-wit" or as a "barbarian". Many mention that he comes across as bombastic and charismatic, which is how many articles depict the real life Jonas Savimbi.
Back in 2002, he was assassinated during a shootout with the MLPA, ending his decades long rebellion against the established government.
It's interesting because this is the second time that Activision has come under fire in regards to the depiction of a real life military figure in one of their games. As reported by PC Gamer, previously there was a lawsuit against Activision over the depiction of Manuel Noriega in Call of Duty: Black Ops 2 (yes, the exact same game that Savimbi shows up in). He was suing for "damages" because he was depicted as a dictator and as cruel. Later on, the courts dismissed Noriega's claims and threw the case out.
In this case, it seems unlikely that anything too damaging could out of this considering that Savimbi is only briefly used in Black Ops 2 and it's more-so as part of a rallying segment for his troops than anything else. But even if the courts do allow the lawsuit to go through, it's really no skin off Activision's back given that $1 million is nothing for them. Most Call of Duty games since Modern Warfare 2 make a $1 billion each quarter after their initial release, so the lawsuit for damages is less than a drop in a bucket for Activision.
Even still, they probably won't want to set any precedents of paying people for being offended at a character appearing in the game in a fictional way. The character's limited use in Call of Duty and mostly good-guy representation of his actions makes it seem unlikely that Activision will fold to the demands.
Staff Writer at CinemaBlend.