Assassin's Creed 4: Black Flag Painting Will Feature Your Face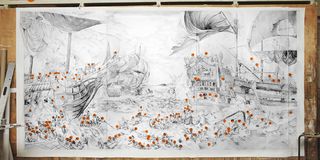 Ubisoft is giving gamers an unusual way to become part of Assassin's Creed 4: Black Flag. They're making a massive oil painting inspired by the game and want to put your faces in it.
Assassin's Creed 4 is set during the Golden Age of Piracy. Players take on the role of Captain Edward Kenway, a former privateer who has become a pirate. He and his crew will sail the Caribbean in search of plunder. Edward is also secretly an Assassin and will spend his nights striking at the Templars, a mysterious order that has battled the Assassins for centuries.
The painting is appropriate to the plot of the game. The oil painting will portray a high seas battle between multiple pirate ships. Ubisoft will choose 137 fans' faces for inclusion in this 2.3 x 4.5 meter piece of art. The painting will be displayed at the Musée de la Marine gallery in France for one month. If that gallery's not in your neighborhood, note that you can also view the painting online at this website.
For a chance at being included in the painting, choose one of the 137 characters in the painting. Ubisoft recommends that you express "as much emotion as passion as you can muster." Then upload a picture through the website. The player community will then vote on which faces should be included. You can better your chances by sharing your entries through social media outlets like Facebook and Twitter.
Members of the VIP program The Watch will receive early access to the contest. The Watch is a special information service and social media platform for AC4 pre-order customers. The Watch members will also get bonus in-game content when AC4 launches.
When I visited the website, it said that the competition wasn't available in my country. It seems that this contest is exclusive to EMEA territories. If us Americans want to be immortalized in a pirate painting, it seems we'll have to paint it ourselves. Or convince a very artistic niece to do it for us.
AC4: Black Flag will debut on October 29th. The painting will go on display from November 4th until December 3rd.
Image 1 of 4
Staff Writer at CinemaBlend.