Assassin's Creed 4: New Hero, New Time Period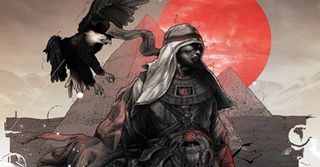 We may be getting a new Assassin's Creed this year. Ubisoft CEO Yves Guillemot confirmed during the company's third-quarter earnings call that the next AC game will be arriving in their 2014 fiscal year, which runs from April 1st, 2013 to March 31st, 2014.
Assassin's Creed 4 (or whatever it's called) will not take place in the Revolutionary War like AC3. Furthermore, it won't star Connor. Guillemot promised both a new hero and new time period.
"We expect it to be another major leap forward for the franchise," Guillemot said. "It is the benefit of multiple teams working on multiple chapters of the product, each getting several years to make their versions of an Assassin's Creed game."
It's a bit surprising to see them abandon the Revolutionary War period so quickly, considering the fact that they made three games set in the Renaissance period. Furthermore, AC3 enjoyed extremely strong sales. Perhaps they're worried about gamers getting fatigue from the setting, though.
This doesn't necessarily mean we won't see Connor or another Revolutionary War Assassin's Creed game, though. It's possible that the AC3 team is working on a direct follow-up now, but it's not the next game coming out. It could arrive in a couple years, after this mystery AC hits stores.
In December, Ubisoft Brazil director Chaverot Bertrand suggested that AC4 would be set in Brazil. Ubisoft itself never confirmed or denied this report. Guillemot says that details on the next AC will be shared "very soon."
Staff Writer at CinemaBlend.
Your Daily Blend of Entertainment News
Thank you for signing up to CinemaBlend. You will receive a verification email shortly.
There was a problem. Please refresh the page and try again.