Assassin's Creed Victory Teased By Ubisoft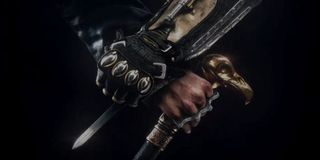 Ubisoft plans to reveal the next Assassin's Creed game in a few days. You probably already know what this new game will be, though.
The short video teaser released by Ubisoft shows an Assassin crossing his arms. He has a hidden blade and gun strapped to one wrist. His other hand is wearing brass knuckles and appears to be holding a cane.
Assassin's Creed's official website, meanwhile, has been updated with a teaser image. Gold brass knuckles with the Assassin Brotherhood insignia sit on a wooden table. A few messages have been carved into the wood. The word "Rooks" is carved next to a bird symbol. To the left, there's a Charles Dickens quote: "We forge the chains we wear in life."
The third carved message is where Ubisoft really tips their hand, though. It says simply "God Save the Queen." The Assassin's Creed series is headed to England.
...We already knew that, though, thanks to a leak late last year. The report revealed that the new game is called Assassin's Creed Victory and is set in 19th century London. The player character can swiftly travel across the city by hitching rides on the top of trains and carriages. They're also equipped with a grappling hook, perhaps so they can swoop around like Spider-Man.
Ubisoft confirmed that the leak was legitimate soon afterward. They also revealed that Ubisoft Quebec is developing the project.
"The team in our Quebec studio has been hard at work on the particular game in question for the past few years, and we're excited to officially unveil what the studio has been working on at a later date."
Assassin's Creed Victory was said to be in development for PS4, Xbox One and PC and launching in Fall 2015. It makes sense, then, for Ubisoft to reveal the game next week and then have an entire summer to market it throughout the world. Assassin's Creed is arguably their biggest franchise now so they're going to give it the same sort of huge push that Activision gives every new Call of Duty.
This will be the first Assassin's Creed game in the main series not to be led by Ubisoft Montreal. The switch from Ubisoft Montreal to Ubisoft Quebec may not bring any huge changes, though. Assassin's Creed games are developed across several studios and AC Victory is no exception. Also, I'm doubting Ubisoft really wants to make any sweeping changes to their cash cow. They've found a formula they're happy with and they're going to adhere to it.
We'll find out whether Victory is really a new chapter in the series or just more of the same on May 12th at 9 am PDT.
Your Daily Blend of Entertainment News
Staff Writer at CinemaBlend.
Your Daily Blend of Entertainment News
Thank you for signing up to CinemaBlend. You will receive a verification email shortly.
There was a problem. Please refresh the page and try again.