Assassin's Creed Unity Sequel Developer Is Ubisoft Quebec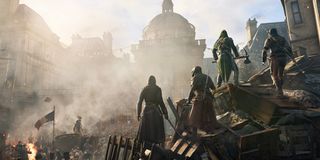 Ubisoft is making a big change to the Assassin's Creed series. They've announced that Ubisoft Quebec, rather than long-time AC lead Ubisoft Montreal, will be heading up development of a next-gen-only Assassin's Creed game.
The Montreal studio has led development of every major Assassin's Creed game to date, from the series debut in 2007 to the upcoming Assassin's Creed Unity. They've been assisted by multiple developers in the past, though, including Ubisoft Quebec.
"Since 2010, our understanding of the franchise has increased each year," Ubisoft managing director Nicolas Rioux told UbiBlog. "We were involved in Brotherhood. We were involved in Revelations. We were involved in Assassin's Creed III. With AC III we were working on the biggest DLC for the franchise – The Tyranny of King Washington. After that we were also involved with [Assassin's Creed IV DLC] Freedom Cry."
"We have the confidence of the brand team and also from Ubisoft to take leadership of an upcoming Assassin's Creed title. The team is ready for the next big step."
Ubisoft Quebec worked on the mobile companion apps for Watch Dogs and Assassin's Creed 4 as well. It seems likely they'll incorporate some kind of second-screen feature for their new Assassin's Creed as well.
"One of the main missions of our studio is to be a leader in creating a universe – connected and mobile," Rioux said. "Beyond that, it's to be able to connect to our universe wherever you want, with whatever device you want, and at any time you want."
The studio currently has 350 employees and growing. Ubisoft hopes to have 425 people operating out of Quebec by the end of 2017.
Although Ubisoft Quebec is heading up a new Assassin's Creed, they won't be the exclusive developer of the series. Ubisoft Montreal and other studios will still be in the mix.
"Montreal studio is a big, mature studio which we've learned so much from and we want to work with - it's a true partnership," Francois Pelland, Ubisoft Quebec's executive director of development, told CVG. "We've obviously established over the years a relationship with key people there and we feel like it's the right time to take on leadership of a title in that franchise.
"It doesn't mean Assassin's Creed is now in Quebec forever, it means we'll take one game in a leadership role and continue to work closely with Montreal. As you've seen before, the collaboration between studios is key for the success of Assassin's Creed."
It's unlikely Ubisoft will ever put an entire Assassin's Creed game in the hands of one studio. The chapters in the main series are vast undertakings. Assassin's Creed 4 was created by seven studios and almost a thousand employees.
Assassin's Creed Unity will launch this fall on Xbox One, PS4 and PC. It's unclear whether Ubisoft Quebec's project is next in line or if there's another AC project planned for 2015.
Staff Writer at CinemaBlend.
Your Daily Blend of Entertainment News
Thank you for signing up to CinemaBlend. You will receive a verification email shortly.
There was a problem. Please refresh the page and try again.