Atlus Announces Sexy New Catherine Deluxe Edition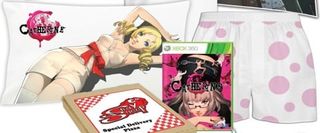 The sexy new erotic action-thriller from the makers of Persona will be available in more than just the standard edition. Atlus announced today that a deluxe edition of Catherine will be available in limited quantities for both the Xbox 360 and PS3.
A fair warning about just how limited in quantity the Deluxe Edition will be was issued by Atlus, stating…
The Deluxe Edition contains items directly tied into the game, including a pillow with a seductive Catherine on it, a pair of polka dot boxers that Vincent wears, and an "Empty Hearts" T-shirt that Catherine wears in the game. An additional art book and CD soundtrack will also be available of the game featuring full colored images of the game characters and 11 music tracks from the game.
You can pre-order the Deluxe Edition of Catherine from select retailers or visit the Official Website to learn more about the game. Catherine is set for release on July 26th for the Xbox 360 and PS3, with the standard edition going for a SRP of $59.99 and the "Love is Over" Deluxe Edition will cost $79.99.
Staff Writer at CinemaBlend.
Your Daily Blend of Entertainment News
Thank you for signing up to CinemaBlend. You will receive a verification email shortly.
There was a problem. Please refresh the page and try again.