Batman: Arkham 3 Won't Be Written By Paul Dini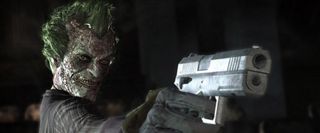 Longtime Batman scribe Paul Dini wrote Batman: Arkham Asylum and its sequel Arkham City. He says he won't be returning for the third installment of the series, though.
"When I asked about the possibility of working on a third game I was told that as Rocksteady had just finished wrapping the second one, it would be a while before everyone was ready to sit down and discuss future plans," Dini wrote on his LiveJournal page. "That said, it was intimated that for future games, Warner and Rocksteady might not be looking as much to freelance writers, the message being, that if had something else interesting coming my way, I might want to take it."
Taking WB's advice, Dini found other work. He now serves as a writer-producer for the cartoon series Ultimate Spider-Man and will have the same duties on upcoming series Hulk and the Agents of S.M.A.S.H.. He says he's too busy to take on any other projects until 2013.
Dini has extensive experience with Batman in both comic books and television. He won Emmy awards for his work with Batman: The Animated Series and Batman Beyond. He's credited with creating Harley Quinn, Joker's sidekick and paramour, while working on The Animated Series. His comic book credits include Batman: Streets of Gotham and Gotham City Sirens.
It sucks that Rocksteady will lose the services of Dini but maybe a new writer is necessary, anyway. It's rumored that the next game in the series is a Silver Age prequel. It's said to focus on Batman's first encounter with Joker as well as the early days of the Justice League. As such, it would probably have a very different tone than the two Arkham games. I don't doubt that Dini could spin this type of yarn but maybe having a different writer on the project (Batman: Silver Age? Batman: Arkham 3?) will ensure that it's a true departure from the other games.
The Silver Age prequel rumor suggested a 2014 release for the game. If so, it's possible that Dini will be free to work on it. He's open to collaborating with Rocksteady again in the future.
"It was fun working with Warners and Rocksteady on the first two Arkham games and I am grateful to them both for a tremendous experience. Rocksteady has a great crew of artists and storytellers, and it was exciting and enlightening for me to be part of that team. If we wind up working together again at some point, that would be cool, too."
Staff Writer at CinemaBlend.
Your Daily Blend of Entertainment News
Thank you for signing up to CinemaBlend. You will receive a verification email shortly.
There was a problem. Please refresh the page and try again.