Batman: Arkham City Harley Quinn DLC Possibly Teased With New Image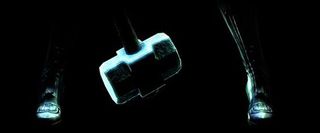 Rocksteady Studios might be on the verge of announcing another DLC pack for Batman: Arkham City. Today they released an image of someone's feet.
More specifically, they look like Harley Quinn's feet. It's definitely a female and I don't know of any other woman in Batman lore that would wield the ridiculous mallet also seen in the image. Harley seems like the best bet.
Earlier this month, a leaked set of Trophies indicated a new DLC pack. The descriptions of one of the Trophies mentioned "Harley Quinn's Revenge." There was also some mention of destroying "Harley Balloons" and playing as Robin.
The only DLC released for Arkham City has involved standalone challenge maps and new characters. An add-on with an actual storyline would be a nice change. Stalking henchmen and taking them out one by one is fun, but doing it while there's some sort of context is even better.
The other reason to be excited about this DLC is that it could be sizable. It's possible that Rocksteady's been working on this content since late last year. I'm not expecting a full-fledged expansion pack but the DLC might be something that takes more than an hour to complete.
We might have to wait a few days to find out what WB and Rocksteady are teasing, though. For now, they're content to keep us guessing.
"So excited to see all the speculation around our tease today," tweeted Rocksteady community manager Sarah Wellock.
Staff Writer at CinemaBlend.