Batman: Arkham City Receives Batcave Map, Batman Inc. Skin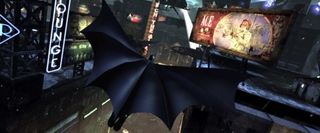 Rocksteady Studios released three pieces of downloadable content today for Batman: Arkham City. There are two premium DLC packs and one freebie up for grabs through Xbox Live, PSN, and Games for Windows Marketplace.
The Arkham Bundle isn't a new piece of DLC. Instead, it's a compilation of the Nightwing Bundle Pack, Robin Bundle Pack, and Arkham City Skins Pack. It costs 1200 MS Points, or $14.99.
The Challenge Map Pack adds new standalone challenge rooms to test Batman's stealth and combat skills. It includes The Joker's Carnival Challenge Map, Iceberg Lounge Challenge Map, and The Batcave. The first two were previously exclusive to pre-order customers or Collector's Edition owners, but the Batcave is an all-new invisible predator challenge. This pack costs 240 MS Points, or $2.99.
All players will also be able to download a Batman Inc. Batsuit Skin starting today for free. You can use the skin in the campaign or challenge maps. You'll need to beat the game first, though.
Image 1 of 3
Image 2 of 3
Image 3 of 3
Staff Writer at CinemaBlend.