Batman: Arkham City Sinestro Corp Suit Exclusive To PS3 Owners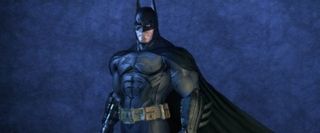 With the announcement of the new Green Lantern DVD and Blu-Ray combo pack came a rather surprising bit of news: PS3 owners will have exclusive access to the Sinestro Corp Batman suit in the special Blu-Ray combo pack of the Green Lantern movie for use in Batman: Arkham City.
Given that Xbox 360 owners are still stuck with standard DVDs it's unfortunate that they'll be missing out on the new Sinestro Corp Batman suit in the upcoming Batman: Arkham City from Rocksteady Games and Warner Bros. Interactive. Nevertheless, don't be surprised if Xbox 360 users will have to pay a little extra in MS Points to eventually receive the suit in a DLC combo pack after Arkham City releases.
In the meantime, gamers looking to embrace the yellow panache of the Sinestro Corp Batman suit can find the special access codes to unlock the suit once the DVD and Blu-Ray combo pack for the Green Lantern becomes available beginning October 14th. And let's face it, whether you liked the movie or not it's still pretty cool getting a free Arkham City skin just for getting the Blu-Ray on your PS3. That's just one of the many benefits of having a next-generation media player.
The Blu-Ray combo pack will be available for $40.99 and Batman: Arkham City will land on store shelves for the Xbox 360, PS3 and PC starting October 18th. Need More info? Be sure to visit the Official Batman Arkham City Website.
Your Daily Blend of Entertainment News
Staff Writer at CinemaBlend.