Batman: Arkham City Trailer Brings Back Joker And Harlequin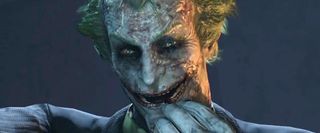 Rocksteady Studios has released another trailer highlighting a supervillain from Batman: Arkham City. The latest video focuses on Joker, his main squeeze Harlequin, and their army of thugs with clown makeup.
You might notice that the Joker's a little raggedy-looking in this trailer. The reason he's in such poor shape is that he's still recovering from the end of Batman: Arkham Asylum - I won't say anymore because if you haven't played that game yet, you really ought to. Harley Quinn is her usual cute and bubbly self, though.
The Joker is once again voiced by Mark Hamill. Supposedly this will be the last time Hamill will play that role, though. Arleen Sorkin, who voiced Harley Quinn in Arkham Asylum and Batman: The Animated Series, has been replaced by Tara Strong.
Arkham City is set to debut in North America on October 18th on the PS3 and Xbox 360. Earlier this week, Warner Bros. revealed that the PC version has been pushed back to November.
Staff Writer at CinemaBlend.
Your Daily Blend of Entertainment News
Thank you for signing up to CinemaBlend. You will receive a verification email shortly.
There was a problem. Please refresh the page and try again.