Batman Arkham Knight Has A Halloween Easter Egg, Here's How To Unlock It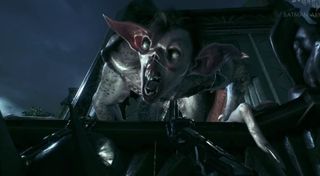 Rocksteady still has surprises for gamers come Halloween. Technically, you can access said surprise before Halloween using a little trick. If you set your console or your PC system clock to October 31st, 2015, it'll trigger a special Halloween Easter Egg in Batman: Arkham Knight featuring Man-Bat.
You can see how to access the Easter Egg via YouTuber Batman-Arkham Videos, as spotted by VG247.
The simple gist of the this particular event is that if you've already completed "Creature of the Night" and captured Man-Bat, you can set the date of your PC or console to October 31st to trigger the event. When you go to the Gotham City PD lockup to see some of the criminals you've captured, you'll note that Man-Bat is in his human form locked in a special cell. As you're flying around in Gotham you'll end up getting jump-scared by Man-Bat to set the event into full swing.
If you head back to the Gotham City PD lockup you'll notice that the Man-Bat has escaped from his cell.
It's insane to think that gamers have dedicated so much time to finding these kind of hidden treats within games like Batman: Arkham Knight. I mean, who even thinks to modify their system clock to trigger the event?
The Batman-Arkham Videos Outlet has tons of neat video Easter Eggs contained within the extensive library of clips. However, none of those videos will help PC gamers be able to run the game decently.
For those of you who haven't heard, PC gamers ended up on the short end of the stick with Batman: Arkham Knight after the game launched broken. And I don't just mean broken, I mean tens of thousands of angry gamers who were furious that the product had massive issues. Warner Bros and Rocksteady are still working hard to fix those problems to this very day.
The supposed estimated new release date for PC is set for sometime this fall. It's an unfortunate problem but the lack of acknowledging some of the complaints from QA to address these issues has most definitely cost Warner Bros a great deal during this fiasco.
The company also received some flak for The Witcher 3 and the PC version of Mortal Kombat X. Word is starting to spread that maybe Warner Bros isn't making it appealing for PC gamers to purchase their products. We'll see how well they deal with things when Mad Max launches this September for home consoles and PC. Avalanche Studios has an awesome track record but if they're prioritized to focus on the Xbox One and PS4, it could mean PC gamers will get the short end of the stick just like with Batman: Arkham Knight.
As for the Easter Egg featuring Man-Bat, I guess in some ways PC gamers will get the most honest experience because by the time the event gets underway when Halloween arrives, the game may finally be available for PC... again.
Your Daily Blend of Entertainment News
Staff Writer at CinemaBlend.