Batman: Arkham Knight PC Version Is Back On Sale, Free Gifts On The Way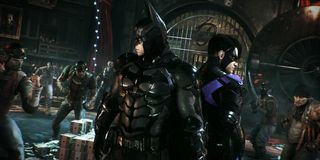 Batman: Arkham Knight's PC version has returned to stores following a long hiatus. To mark the occasion, Warner Bros. is giving away freebies to the early adopters of the game.
For starters, anyone who purchases Knight in the next three weeks will get Steam keys for the other games in the Arkham series:
I'd imagine most Arkham fans have played most of these games at this point so that takes away some of the impact of the freebies. Enjoy your free copy of Blackgate, I guess?
Furthermore, the developers are now making a "Community Challenge Pack" that will be released for free in January 2016. While PS4 and Xbox One gamers will also get this DLC, it will debut a week early on PC. Additional details on the "Community Challenge Pack" will be announced soon.
Anyone who owns Arkham Knight on Steam by November 16th will also get special Batman-themed cosmetic items for Team Fortress 2. These items will be created by the community in a contest underway until the 16th. Designers of the winning creations (Valve will select up to three) will get two dozen games published by WB for free:
Batman: Arkham Knight
Batman: Arkham City – Game of the Year Edition
Batman: Arkham Asylum Game of the Year Edition
Batman: Arkham Origins
Batman: Arkham Origins Blackgate Deluxe
Mad Max
Lego Worlds
Bastion
Injustice: Gods Among Us Ultimate Edition
F.E.A.R
F.E.A.R. 2: Project Origin
F.E.A.R. 3
The LEGO Movie – Videogame
Scribblenauts
Scribblenauts Unmasked: A DC Comics Adventure
LEGO Batman
Mortal Kombat X
Mortal Kombat Komplete Edition
Lego Harry Potter: Years 1-4
Lego Harry Potter: Years 5-7
Watchmen: The End is Nigh
Watchmen: The End is Nigh Part 2
Scooby Doo! & Looney Tunes Cartoon Universe: Adventure
Hot Wheels World's Best Driver
Gauntlet
Batman: Arkham Knight's PC version was released alongside its console counterparts back in June. However, a slew of technical problems led Warner Bros. to stop selling the game on PC just days after launch. Only the early adopters have had access to the game since then. Rocksteady has been releasing patches over the past few months to clean up the game in anticipation of today's re-release.
Staff Writer at CinemaBlend.
Your Daily Blend of Entertainment News
Thank you for signing up to CinemaBlend. You will receive a verification email shortly.
There was a problem. Please refresh the page and try again.