Batman: Arkham Knight PC Version Won't Be Fixed For Months, According To Leak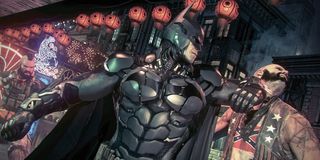 Warner Bros. stopped selling Batman: Arkham Knight's PC version so that developers could fix many of its largest issues. We may have to wait longer than expected for the game to return to PC.
Kotaku obtained an email sent to EB Games staff in Australia that says the game still needs several months of fixes:
Keep in mind that this was addressed to Australian workers. Australia's spring takes place during our fall. That means Arkham Knight's PC edition may not be on sale again until September at the earliest.
If that's true, that's embarrassing. I'm not sure I can remember a game ever being yanked off store shelves that long because of technical problems. Usually, when a game's that broken, the publisher just delays its actual release. According to a recent report, WB knew before launch that the PC edition was in trouble, too.
Arkham Knight debuted on PC and consoles last month. At launch, PC gamers experienced many performance issues with the game. For example, users were experiencing pop-in and stuttering even with settings turned way down. Unlike Witcher 3's technical issues, Arkham Knight's problems are experienced by both AMD and NVIDIA hardware users.
Rocksteady Studios released a 67 MB update for PC a few weeks ago to help out gamers who already own that version. This patch stopped a couple crashes along with a glitch that disabled rain. However, there's a lot more to be done. Here's the developer's official to-do list for the PC version:
Support for frame rates above 30FPS in the graphics settings menu
Fix for low resolution texture bug
Improve overall performance and framerate hitches
Add more options to the graphics settings menu
Improvements to hard drive streaming and hitches
Address full screen rendering bug on gaming laptop
Improvements to system memory and VRAM usage
NVIDIA SLI bug fixes
Enabling AMD Crossfire
NVIDIA and AMD updated drivers
Due to these technical problems, PC gamers will also miss out on Arkham Knight's post-launch content. That includes the Batgirl: A Matter of Family, a prequel adventure that arrived on PS4 and Xbox One this week. Rocksteady hasn't announced when the PC edition will be getting Batgirl or the other planned add-ons but it presumably won't happen until major fixes are implemented.
Staff Writer at CinemaBlend.
Your Daily Blend of Entertainment News
Thank you for signing up to CinemaBlend. You will receive a verification email shortly.
There was a problem. Please refresh the page and try again.