Battlefield 3: Back to Karkand Hits PC And Xbox 360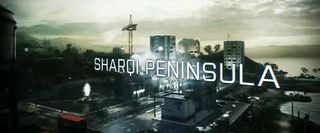 The PS3 exclusivity period for Battlefield 3's Back to Karkand expansion is at an end. Today DICE released the DLC for the PC and Xbox 360. They've also sent out another trailer previewing the expansion.
"Back to Karkand" adds four maps from Battlefield 2. These maps have been redone with Frostbite 2 technology, resulting in more polished visuals and enhanced destruction. The new trailer shows one of these maps, Sharqi Peninsula.
"Karkand" also includes four new vehicles, including the STOVL fighter jet and Desert Buggy. There are also ten new weapons that can be used in either the "Karkand" or standard BF3 maps. These weapons will be unlocked via persistent challenges called Assignments.
The expansion is free to anyone who owns the Limited Edition of the game. Everyone else will need to pay $15.
Staff Writer at CinemaBlend.
Your Daily Blend of Entertainment News
Thank you for signing up to CinemaBlend. You will receive a verification email shortly.
There was a problem. Please refresh the page and try again.