Battlefield 3 Is Free Right Now On Origin, No Strings Attached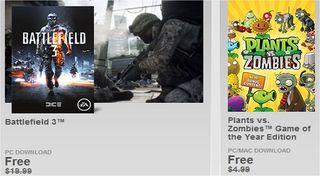 I don't know how long this will last and I don't know when it's coming back, but Electronic Arts opened up their chest and revealed that under the black, oily machine that pumps multinational currency through their veins, there is a heart... a heart that cares.
Right now, as I type this, at this very moment, Electronic Arts is giving away Battlefield 3, the full game, all of it, right now, for free. Do I need to repeat it? Possibly, because most people have so much hate in their hearts that their empathy pathways are clogged up from years of EA's missteps and Worst-Company-In-America antics that it's likely a lot of you are still skeptical.
Fear not, for the promotion is legit, through and through. In fact, there's an image that guarantees that the the promotion is real. Check it out below.
Oh, you don't care about pictures? Well, if images are worth a thousand words then links to free games must be worth a thousand memes of Fry yelling "Take my money". So, here's the link to EA's new On The House giveaway.
I'm not sure where it came from or why it's there, but as mentioned in the image – and in case you can't view the image – the site mentions...
It's basically an answer to Steam's mid-week sales, where games will drop in price out of the blue. A lot of times I'll open up Steam and see an awesome game available for 50% or sometimes 75% off. It's a nice surprise to help keep gamers on their toes and spending money like it's going out of fashion (and if you live in certain parts of America... it actually is going out of fashion).
Of course, there are a few rules and regulations to play, as you'll notice in the fine print at the bottom of the page like a stern-eyed father looming over your shoulder when you take his daughter out for a first-time date. Check-it, you'll still need to be a certain age and adhere to a couple of terms of service agreements, with the fine print noting...
No one can ever say that devil doesn't do kind things on occasion.
The reality is that if you want the vanilla version of Battlefield 3 in all its entirety, for free, you may want to jump in on this fleeting deal like Katie Couric jumped ship from ABC News to Yahoo. Besides, Battlefield 3 is still known as the good Battlefield game that didn't launch and stay broken.
Again, here's a link to EA's On The House promotion for a free copy of Battlefield 3 and Plants Vs Zombies. It's a nice little touch of goodness following on the leak of the highly entertaining video of Battlefield: Hardline.
Staff Writer at CinemaBlend.
Your Daily Blend of Entertainment News
Thank you for signing up to CinemaBlend. You will receive a verification email shortly.
There was a problem. Please refresh the page and try again.