Battlefield 4 DLC On Hold As DICE Fixes Bugs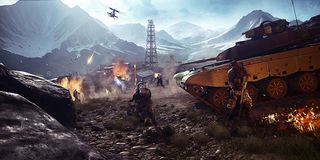 Battlefield 4 developer DICE has turned its complete attention toward squashing the game's bugs. The studio is putting development of future DLC on hold until they can stabilize the troubled shooter.
"We know we still have a ways to go with fixing the game – it is absolutely our #1 priority," a spokesperson from publisher EA told PC Gamer. "The team at DICE is working non-stop to update the game."
This decision doesn't apply to China Rising, the expansion pack which just debuted yesterday. They decided to go ahead with China Rising's release because it was already close to completion. They reasoned that delaying the DLC would just piss off fans even more. As it turns out, though, China Rising is also bugged so they pissed off fans anyway. Sad trombone.
The game's been experiencing crash issues on several platforms since launch. Many players have been unable to enjoy a peaceful night of multiplayer, which is a shame because it's the sole reason to buy BF4 in the first place. I've been one of the lucky ones who, through some combination of geography and a good ISP, have been to play mostly without crashes. However, I've been hit by the game's other issues such as the one-shot-kill bug and save-file corruption.
DICE tried to soothe players at the end of November by announcing adouble XP week and a free pistol scope. However, someone crunched the numbers and realized that zero XP doubled is still zero. Free multiplayer perks don't mean much if you can't actually play the game.
The statement sent to PC Gamer was also emailed to IGN and Polygon. It seems that EA now comprehends how big of a problem they have on their hands and they're in full damage control mode. I hope that their PR efforts are backed up by some swift patching. DICE has to demonstrate that they can make the game playable if they're going to convince us to pony up cash for five expansion packs.
EA even said that they've halted "future projects" to focus on BF4's patches. I suppose a juicier headline would've been "EA Delays Star Wars: Battlefront And Mirror's Edge 2 To Squash Battlefield 4 Bugs" but I'm not sure that you can really delay a game that you haven't announced a release window for.
Image 1 of 3
Your Daily Blend of Entertainment News
Staff Writer at CinemaBlend.