Battlefield: Bad Company 3 Is A Possibility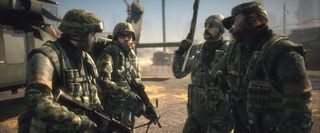 Just because the latest Battlefield has a serious tone, that doesn't mean DICE won't ever go silly again. It's possibly they may make another installment in the off-beat Battlefield: Bad Company subseries.
"Well, we haven't killed Bad Company!" said producer Patrick Liu in an interview with Guardian. "But we can only make so many games. Be patient – there might be something else coming up…"
So, pencil Bad Company 3 in for 2012? Not quite.
"We always have a couple of projects going on – some of them die, but some are more fruitful. We don't have any plans to make Battlefield an annual title – we want to make it ourselves we don't want anyone else doing it!" said Liu. "And no studio can make an annual franchise by themselves – well, the sports titles can but they're a very different breed."
The Bad Company games are focused on a four-man squad of misfit soldiers in the US Army. Their unit, the titular "Bad Company," is where the Army sticks all their troublemakers. Though they're ill-disciplined jokers and use unorthdox methods, the squad is extremely skilled and often finds themselves on top secret, high priority missions. Bad Company tries to be a little more "Hollywood" than the standard Battlefield games, which are generally trying to go for that "true war" vibe.
Bad Company 2's ending left the door wide open for a sequel so DICE clearly had some desire to make BC3. The question's more likely "When are they going to make it it?" rather than "Are they going to make it?"
Staff Writer at CinemaBlend.
Your Daily Blend of Entertainment News
Thank you for signing up to CinemaBlend. You will receive a verification email shortly.
There was a problem. Please refresh the page and try again.