Battlefield Hardline Closed Beta Extended On PS4 And PC, Open Beta Coming This Fall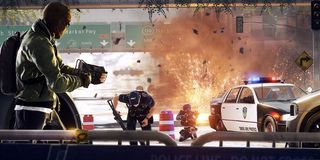 The closed beta for Battlefield Hardline isn't over just yet. Developer Visceral Games announced today that they're extending the PS4 and PC test by several days.
"The team at Visceral Games would like to thank those that have participated in the Battlefield Hardline closed beta," said DICE community manager Vincent Vukovic on PlayStation.Blog. "We've seen some incredible feats demonstrated on the virtual streets of LA – everything from massive breach charge explosions and intense heists to criminals riding shotgun and cops banding together to protect vaults. All of your time spent in game and feedback shared with us will help shape Battlefield Hardline over the coming months."
"It is with excitement that we announce the Battlefield Hardline beta will continue for an additional week, ending on Thursday, June 26th at 12:00PM PST."
During this extra week, the beta will benefit from the Battlelog mobile app. The app, which also tracks stats on BF4 and BF3, has been updated to work with Hardline as well:
If you're not in the beta yet, you can sign up at Hardline's website. PS4 will have to wait for an email invite, while PC gamers get instant access. Beta registration will close on Sunday, June 22nd at 12 PM PST.
The beta test lets players try out one map in two different modes: Heist and Blood Money. In Heist, a team of criminals must grab two loot bags and bring them to extraction zones while a team of cops tries to stop them. Blood Money challenges two rival gangs to steal money from a central vault or the other team's stash.
By participating in the beta, you'll earn a weapon camo and sight for Battlefield Hardline when the game is released this October. You'll also unlock a dog tag for Battlefield 4. Reaching rank 10 in the beta and enabling Facebook sharing in the beta will earn you a special Battlepack and $1,000 of in-game cash at launch, too.
Xbox One, Xbox 360 and PS3 owners won't be getting access to the closed beta. However, they'll get a hands-on opportunity with the game later in the year.
"In addition to the current beta, there will be an open beta in the fall for all announced platforms prior to the game's release."
I enjoyed my time with the beta this weekend. The new modes are a nice spin on the usual capture/defend action of Battlefield.
Still, I haven't seen enough of the game to say whether it's unique enough to justify its existence. I'm a little concerned that the spin-off could end up hurting the wider franchise - a worry that DICE once had as well.
Staff Writer at CinemaBlend.
Your Daily Blend of Entertainment News
Thank you for signing up to CinemaBlend. You will receive a verification email shortly.
There was a problem. Please refresh the page and try again.