Battlefield Hardline Lets You Drive A Couch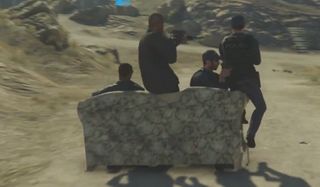 Battlefield Hardline players have found yet another hilarious Easter egg tucked away in the game. This latest secret is a couch that you can drive into battle.
The couch, shown in this video by JackFrags, can be found in the Dustbowl map on Hotwire mode. It has several possible spawn points, one of which is shown in the video. The couch is called "The American Dream," abbreviated to "Merica" on the kill log.
This magical piece of furniture seats up to four players, with one seated on the arm and one perched on the top so everyone's got a clear shot at nearby enemies. Still, unlike cars or trucks, there's nothing to shield you from enemy fire so you might not live very long.
The American Dream is surprisingly agile for a couch, too. JackFrags says it's the fastest land vehicle in the game. This makes it ideal for roadkills. It's also great for stunt-jumping around the map:
While this couch seems very handy, it won't be a very common sight even when everyone knows about it. It'll only spawn once per match. It can be repaired with a tool but I suspect it's not very durable.
Hardline seems like a game on first glance. After all, it's about criminals and cops waging open war on each other in Los Angeles. Visceral uses those expectations to their advantage, though, surprising players with amusing Easter eggs like this. The game's also loaded with funny reload animations. For example, a character might levitate a clip into their assault rifle or practice street magic while reloading his handgun.
Visceral's just continuing a long tradition of Easter eggs in Battlefield games, though. Battlefield 4 allowed players to summon a giant shark. Forklifts appeared as playable vehicles in multiple games.
Battlefield Hardline is set to launch on PS4, PS3, Xbox 360, Xbox One and PC on March 17th in North America and on March 19th in Europe. Xbox One owners with EA Access can start playing right now, though.
Your Daily Blend of Entertainment News
Staff Writer at CinemaBlend.