Battlefield Hardline Free Trial Arrives On Xbox One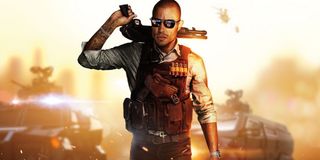 Battlefield Hardline won't launch worldwide until next week. However, select Xbox One players can dive into the cops and crooks shooter right now.
EA Access members on Xbox One can now download an exclusive free trial of Hardline. This trial lets them dip their toes into the campaign and also get some extensive hands-on time with the multiplayer.
"Members get a full ten hours with the game, including the Prologue and Chapter 1 of the single-player story and all the multiplayer maps," EA said on their blog today. "During the trial, in-game updates keep track of how many hours are left to play, and all progress carries over. Remember, EA Access members save 10% when buying in the Xbox One Game Store."
EA Access is a premium service that costs $4.99 per month or $29.99 per year. In addition to the occasional free trials and 10% discount on digital EA purchases, EA Access members can download and play these games for free:
MADDEN NFL 15
NBA LIVE 15
EA SPORTS UFC
BATTLEFIELD 4
MADDEN NFL 25
FIFA 14
PEGGLE 2
NEED FOR SPEED RIVALS
PLANTS VS ZOMBIES GARDEN WARFARE
While EA Access doesn't require Xbox Live Gold membership, you wouldn't get nearly as much out of the membership without it. Most of the free games included with the membership are centered around multiplayer, after all.
EA Access is currently exclusive to Xbox One. EA offered the service to Sony for PS4 but they were turned down. Sony explained that they didn't feel that the monthly fee on top of PlayStation Plus' would be a good value.
"We evaluated the EA Access subscription offering and decided that it does not bring the kind of value PlayStation customers have come to expect," Sony said last year.
If you own a PS4 or any other platform scheduled to receive Battlefield Hardline, you'll have to wait until March 17th (or March 19th in Europe) to dive into the game. The upside to not having EA Access available for your platform, though, is that you won't have to fight against players who got a few extra days to grind up new weapons and equipment through the free trial. That's a pretty narrow silver lining, though.
In Battlefield Hardline, cops and criminals battle throughout the Los Angeles area. The game features large-scale multiplayer with vehicles like previous Battlefield games but with different gadgets and game modes that better fit the theme. Certain military vehicles like attack helicopters and tanks, meanwhile, are excluded from the game. The single-player campaign is a TV show-like story of a cop trying to take down a drug operation.
Your Daily Blend of Entertainment News
Staff Writer at CinemaBlend.