Battletoads Making Unexpected Return On Xbox One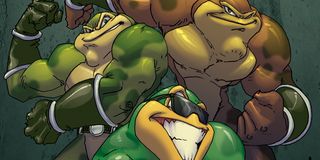 Battletoads fans have been waiting years for the classic beat 'em up series to return. The mutant toad warriors will be making their return on Xbox One but it's not exactly what we were hoping for.
Instead of getting their own game, the Battletoads will be making a cameo in the Xbox One edition of Shovel Knight, set to debut in April.
"The Battletoads, who debuted on the NES in 1991, are going to be returning in the Xbox One version of Shovel Knight!" said Shovel Knight studio Yacht Club Games. "It has been so much fun to bring the radical attitude and gameplay of the NES classic to the Shovel Knight world. If you have ever played Battletoads– we're pretty sure their extreme adventures left an impression! Check out how we've reimagined the NES sprites in Shovel Knight's iconic style.
The teaser trailer they provided shows Rash, Zitz and Pimple arriving on Shovel Knight's world on a spaceship. Rash points at him, as if he's selecting him for some special mission. It's unclear whether players will get to control the Battletoads or just work alongside them.
"Needless to say, the encounter with the Battletoads will be a blast…feel free to pore over these teasers and speculate. Just don't call Gamestop and ask for Battletoads in Shovel Knight… it's not available just yet!"
Shovel Knight seems like an appropriate game for a Battletoads cameo. Like Battletoads, Shovel Knight is a punishingly hard 2D side-scroller that demands quick reflexes and a lot of patience. A player who likes one game will probably enjoy the other as well.
I'm hoping this cameo is a sign that Battletoads will soon get a new game of their own. I think this is as good of a time as any. Over the past few years, games have become more and more accessible so they can reach a wider audience. There are a lot of players, though, that hunger for a game that's still willing to kick their ass. The commercial success of difficult games like Dark Souls shows that the market's there for a new-gen Battletoads.
If Battletoads did get a new game, it would probably happen on Xbox One. Microsoft now owns Rare, the developer of Battletoads, so they have the rights to the franchise as well.
There have been signs that the company's considering a resurrection, too. They filed a trademark for Battletoads late last year. It's one of several classic Rare franchises they're interested in bringing back.
"Will there ever be another Banjo, Viva, Blast Corps, Battletoads? Yeah, someday," Microsoft's Ken Lobb said earlier this year. "And I think the reason you see things like [the Battletoads trademark] revived, is because we know there's value.
"So we renewed the trademark. Does that mean it's coming this year? No. Does that mean it'll never come? Absolutely not. We have a lot of passion internally for each of the games. And we have surprises in store in the near and long future."
The Battletoads cameo in Shovel Knight definitely qualifies as a surprise. We'll have to wait and see what other unexpected ways Microsoft plans to bring back these classic franchises.
Staff Writer at CinemaBlend.
Your Daily Blend of Entertainment News
Thank you for signing up to CinemaBlend. You will receive a verification email shortly.
There was a problem. Please refresh the page and try again.