BioShock 2 Multiplayer Is A Prequel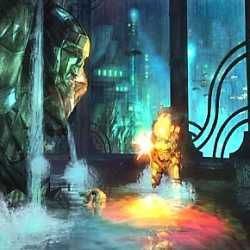 A decent amount of information has been revealed about BioShock 2 thus far but 2K Games has been more or less silent on the new multiplayer features. Today, they've provided the first details.
The multiplayer aspect of the game will be co-developed by Digital Extremes and 2K Marin. It's a prequel to the first game and takes place during the fall of Rapture. Players control Plasmid test subjects for Sinclair Solutions. Here are the direct quotes from the press release:
Evolution of the genetically enhanced shooter – Earn experience points during gameplay to earn access to new Weapons, Plasmids and Tonics that can be used to create hundreds of different combinations, allowing players to develop a unique character that caters to their playing style.
Extend the Rapture fiction – Players will step into the shoes of Rapture citizens and learn more about the fall of Rapture as they progress through the experience.
See Rapture before the fall – Experience Rapture before it was reclaimed by the ocean and engage in combat over iconic environments in locations such as Kashmir Restaurant and Mercury Suites, all of which have been reworked from the ground up to deliver a fast-paced multiplayer experience.
FPS veterans add their touch to the multiplayer experience – Digital Extremes brings more than 10 years of first person shooter experience including development of award-winning entries in the Unreal® and Unreal Tournament® franchise.
Pretty big news for a Friday morning. The details don't quite explain what the minute-to-minute gameplay will be like, though. Oh well. BioShock 2 will be released in late 2009 for the PS3, Xbox 360, and PC.
Staff Writer at CinemaBlend.
Your Daily Blend of Entertainment News
Thank you for signing up to CinemaBlend. You will receive a verification email shortly.
There was a problem. Please refresh the page and try again.