BioWare: Jade Empire Might Make A Comeback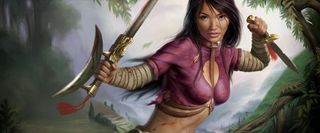 At Eurogamer Expo, BioWare co-founders Ray Muzyka and Greg Zeschuk said that the Jade Empire franchise is "near and dear" to them. They've been discussing a follow-up installment in the RPG series for years.
Jade Empire first debuted on Xbox Original in 2005. It's a fantasy game with a setting resembling ancient China. It features many BioWare staples, such as branching dialogue and a morality system. However, the combat was similar to a beat 'em up game. Some criticized its length, the difficulty, or the slim customization options but it's still very much a BioWare RPG.
"We've been talking a lot about [Jade Empire] actually on and off over the years," said Muzyka. "It's an IP, it's a setting that we're really passionate about, and we still are. Both Greg and I were big believers in the IP. We're just looking for the right way to deploy it."
"We have a lot of different projects now on a lot of different platforms, and you might see some of that [Jade Empire] in the future. You never know. We don't have anything to announce on it right now, but it is a franchise that's near and dear to us."
Unfortunately for Jade Empire fans, BioWare has a lot on their plate. Since Jade's release, they created the Mass Effect and Dragon Age franchises. They've made two games in each series, with Mass Effect 3 on the way in early 2012. Dragon Age 3 probably isn't far off, either. BioWare's also developing Star Wars: The Old Republic for release at the end of this year.
If you're interested in checking out Jade, you can pick it up for cheap through Xbox Live or digital PC stores like Steam.
Staff Writer at CinemaBlend.
Your Daily Blend of Entertainment News
Thank you for signing up to CinemaBlend. You will receive a verification email shortly.
There was a problem. Please refresh the page and try again.