Star Wars: The Old Republic Release Date Announced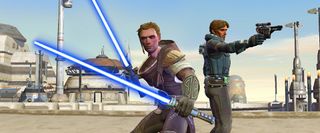 During their keynote address at Eurogamer Expo, BioWare co-founders Ray Muzyka and Greg Zeschuk revealed the launch date for Star Wars: The Old Republic. The MMORPG will arrive just before the year's out.
SW:TOR will go live in North America on December 20th. Europe will receive the game on the 22nd.
"In 1977, Lucasfilm created magic with the release of Star Wars. Our goal is to capture some of that magic when we go live with Star Wars: The Old Republic on December 20," said Muzyka. "This is an incredible moment for everyone at BioWare and our partners at Lucas Arts who have dedicated so much of their lives to building this extraordinary game."
Added Zeschuk: "We appreciate the patience of the millions of fans who have been waiting for the game's release. When we launch this groundbreaking MMO with world class storytelling this holiday season, we hope you will agree that it was worth the wait."
The Old Republic takes place thousands of years before the events of the Star Wars films. The Sith Empire and Galactic Republic are locked in a deadly conflict. Players will have eight classes to choose from, each of which has their own unique storyline to experience. On your journey, you'll travel to Tatooine, Alderaan, and other notable worlds from Star Wars lore.
If you pre-order Old Republic, you'll get access to the game before the launch date. You'll also get a Color Stone, an item that changes the color of your blaster bolts or lightsaber blade. You can receive additional virtual and real items by pre-ordering the Digital Deluxe or Collector's Edition. Pre-order quantities are limited, though.
Staff Writer at CinemaBlend.
Your Daily Blend of Entertainment News
Thank you for signing up to CinemaBlend. You will receive a verification email shortly.
There was a problem. Please refresh the page and try again.