BlizzCon 2009: Diablo III Monk Class Introduced With Trailers, Screenshots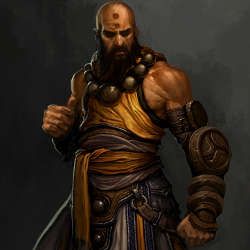 Today Blizzard unveiled another character class for Diablo III: the Monk. They've also released several screenshots and videos of the Monk in action.
The Monk is a master of martial arts. He does not rely on cold steel or magic in battle. Instead, he's turned himself into a walking weapon through years of training. There's a brief story on the Diablo III website that introduces the Monk. Wouldn't you rather just check out the videos and screenshots below, though?
There will be five character classes in Diablo III. The Monk was the fourth to be announced - or the fifth, if you count the Archivist on April Fool's Day.
Image 1 of 7
Image 2 of 7
Image 3 of 7
Image 4 of 7
Image 5 of 7
Image 6 of 7
Image 7 of 7
Staff Writer at CinemaBlend.
Your Daily Blend of Entertainment News
Thank you for signing up to CinemaBlend. You will receive a verification email shortly.
There was a problem. Please refresh the page and try again.