Blizzard Forced To Give Koreans Refunds Of Diablo 3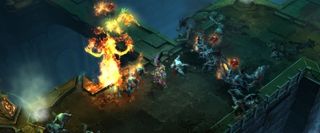 The Korean Fair Trade Commission has cracked down on Blizzard in South Korea due to consumer complaints involving refunds of Diablo III. Blizzard has finally acknowledged said crack-down and is now issuing players refunds with very specific stipulations.
According to the Wall Street Journal, Blizzard started acknowledging refunds this past Monday on June 18th.
The problem originally occurred when Diablo III launched and many Korean gamers were unable to access the servers. Blizzard had a much smaller server capacity available at launch for the Asia territory, limiting the amount of players who could log in concurrently. In result, Korean gamers began asking for refunds since they couldn't play the game they paid for. When Blizzard denied them refunds of digital purchases of the game, the Korean FTC raided Blizzard's offices.
It was later deemed that the user agreement was potentially anti-consumerist, prompting the Korean FTC to come down on Blizzard enforcing them to provide refunds to Korean gamers, which Blizzard is now begrudgingly doing. The company has also extended server capacity since more than two-thirds of the Asia server's load comes from South Korean gamers. These issues were also in response to internet cafe owners who also filed complaints against Blizzard and are attempting to sue the company due to business loss from a lack of server support.
Korean gamers can now get refunds of the game, however it must be between June 25th and July 3rd. According to a message on the Korean Battle.net forum you must be under level 40 and you must have completed less than two-thirds of the game.
As a bonus, Blizzard will be allowing you to gift a 30 day free pass of StarCraft II to a friend. And so I don't butcher the explanation, you can read it for yourself.
It's at least good that gamers are getting something good out of this. It's really sad it's even come to this point where gamers have to fight tooth and nail not to be screwed over. If you pay for a product the product is expected to work as advertised. It shouldn't be that you have to wait a month or two for "server stability". Who paid for a DVD to be told when and how they can watch it?
Blizzard is also undergoing another issue where people who buy digital copies also have to wait up to three days before being able to use it, due to the high amount of digital fraud. What's worse is that only legitimate consumers are being hurt by this. The official forum post restricts user comments but the general forum is ripe with righteous anger.
Hopefully gamers can do enough to deter this always-on future from happening by making enough of a stink. If you feel your voice isn't being heard feel free to contact the Better Business Bureau or America's Watchdog. You can also write to your local senator to try to get your voice heard.
Your Daily Blend of Entertainment News
Staff Writer at CinemaBlend.