Bloody Roar 5 Coming In 2012 For Xbox 360, PS3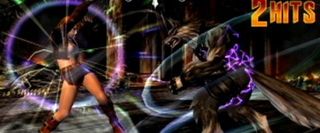 Update: Apparently this is all a hoax. Boo.
Hudson Entertainment, best known for pioneering strategic ways to kill multiple opponents simply by throwing bombs at walls in the Bomberman games, was also known for another series called Bloody Roar. In Bloody Roar players could fight like in typical 3D fighting games, but then there was also the option to turn into a beast and scratch, claw and bite the crap out of opponents.
Hudson announced via Twitter - which seems like the perfect way to downplay buzz these days - that Bloody Roar 5 will be a series reboot and that the game will be arriving for the Xbox 360 and PS3 in 2012.
The tweet catch comes courtesy of Siliconera, who found out that a new Bloody Roar was in production via this obviously, brightly colored tweet containing the following message…"New Bloody Roar sequel, is in production! we'll post more soon! ;)"
Siliconera believes that the game could be arriving in North America since the tweet above was in English. However, the subsequent tweet containing the platform availability and the release schedule was entirely in Japanese…so, I guess we can just take it as it is and wait for some real details before jumping to any conclusions.
There's no denying, though, that at least Tekken and Street Fighter will be getting a little extra competition from Hudson Soft this gen. We'll be sure to keep you posted on any news regarding the development of Bloody Roar 5.
Staff Writer at CinemaBlend.
Your Daily Blend of Entertainment News
Thank you for signing up to CinemaBlend. You will receive a verification email shortly.
There was a problem. Please refresh the page and try again.