Borderlands 2 Puts Steamworks To Work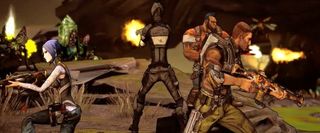 If you're as excited for Borderlands 2 as I am (and if it were up to me this game would already be Game of the Year even though it's not out yet) then be prepared to be even more excited as Valve, Gearbox and 2K have announced that Borderlands 2 will ship with full Steamworks integration.
This means that gamers will experience full Steam-oriented achievements, Cloud-saving, auto-updating, and even a new multiplayer matchmaking system that will open up all kinds of new experiences for you and your friends.
Gearbox finally kicked Borderlands 2 into high gear with an unforgettable and highly replayable gameplay video that had 96.5% more Wub, Wub and that was just enough to get gamers riled up to rape the replay button like no replay button has been raped before. In fact, I think my replay button was begging for mercy, but I wasn't giving it any.
You can look for Borderlands 2 with the complement of Steamworks integration to launch for home consoles and PC on September 18th in North America and September 21st internationally. And of course, just before you click out back to Google or Yahoo or Facebook, be sure to check out some more Wub, Wub.
Staff Writer at CinemaBlend.
Your Daily Blend of Entertainment News
Thank you for signing up to CinemaBlend. You will receive a verification email shortly.
There was a problem. Please refresh the page and try again.