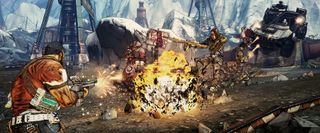 Plenty of big-name fall releases will be delayed but Borderlands 2 isn't one of them. Today 2K Games and Gearbox Software revealed that the co-op shooter is still launching this fall. They also provided the exact launch dates.
Borderlands 2 will debut in North America on September 18th. The international release is scheduled for September 21st. These dates apply to the Xbox 360, PS3 and PC.
I was a bit nervous about this one being delayed, honestly. As you might recall, Gearbox's other upcoming game Aliens: Colonial Marines was recently delayed until this fall. My reasoning was that a developer wouldn't want to release two co-op shooters in close vicinity to each other because they'd be competing with themselves. Seems Gearbox is cool with it, though. They've got Borderlands 2 scheduled for the early days of fall so they could have Colonial Marines scheduled for November or December and avoid cannibalizing their own sales.
In B2, players return to the world of Pandora. They'll face off against Handsome Jack, head of the Hyperion Corporation. The campaign can be played solo or with up to three other players via local or online co-op.
"The addictive gameplay and shooting and looting mayhem of the first Borderlands is back and better than ever in Borderlands 2, taking the franchise to an entirely new level," said 2K president Christoph Hartmann. "With more guns, more enemies, more missions, an engaging story and all-new characters, Borderlands 2 promises to bring a new era to gaming this fall."
2K revealed pre-order bonuses for the game as well today. Reserving your copy through participating retailers will give you membership in the Borderlands 2 Premiere Club. This membership entitles you to download the the Gearbox Gun Pack, a Golden Key and the Vault Hunter's Relic. The key allows you to unlock a Golden Sanctuary Loot Chest in the game and acquire a rare item. The relic boosts your chance at finding good loot. The gun pack, meanwhile, is...a lot of guns.
Your Daily Blend of Entertainment News
Staff Writer at CinemaBlend.