Bulletstorm Coming To PS3, Xbox 360, PC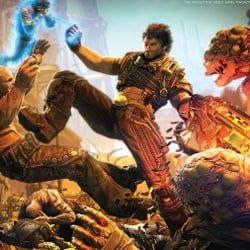 Epic Games and EA announced Bulletstorm today, a first-person shooter based on a new IP. The game is in development at Epic subsidiary People Can Fly and is set to hit the PS3, Xbox 360, and PC in 2011.
In Bulletstorm, a pair of mercenaries find themselves trapped on a planet filled with mutants and cannibals. Protagonists Grayson and Ishi dispense their enemies with heavy weaponry and special abilities called 'skillshots.' More creative 'skillshots' will earn you extra points for upgrading your character and unlocking weapons.
If you want more information on Bulletstorm, you won't have to wait long. The game is the cover story for the latest issue of Game Informer. Epic Games' Cliff Bleszinski is set to appear on Jimmy Fallon tonight, too, so expect to hear something about Bulletstorm in addition to the Gears of War 3 reveal.
Staff Writer at CinemaBlend.