Burnout Paradise Developer Hiring For Arcade Racer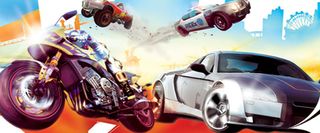 Criterion Games, the studio responsible for the critically acclaimed Burnout Paradise, is recruiting for its next project; a new arcade racer.
The developer listed two positions with one of them seeking a Senior VFX Engineer in order to produce graphics and visual effects for an unannounced "AAA racing title". The other job advert is looking for a Cinematic Cut Scene Artist. To add credibility to the fact that they're working on another Burnouttitle, the listings state that successful applicants will be involved with "the world's number one, multi award winning, arcade racing franchise." That said, another possibility is a sequel to Need for Speed: Hot Pursuit, which was developed by the studio.
"Criterion Games is looking for talented Cinematic Artists to work on the world's number one, multi award winning, arcade racing franchise. You'll be part of the in game Cinematic Team within EA's BAFTA award winning Criterion Games studio; with responsibility for bringing to life the visceral, brutal car action Criterion is critically acclaimed, trusted and renowned for," reads the listing.
Those chosen for the job will be given the opportunity to create both "dynamic action sequences", as well as delivering "stylish, engaging and entertaining solutions to our hi octane driving action." In addition, the potential employee will be animating "intense car action sequences, terrifying jumps, insane crashes and epic car chases."
Criterion's last Burnout game was in the form of downloadable title Burnout CRASH. Burnout Paradise, meanwhile, launched during 2008 during January and sold over a million units a few months later.
Your Daily Blend of Entertainment News
Thank you for signing up to CinemaBlend. You will receive a verification email shortly.
There was a problem. Please refresh the page and try again.