CB Games Presents: How To Improve God of War 3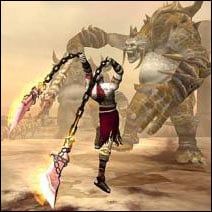 Look, God of War is great – fantastic even – CB Games itself gave God of War 2 four and a half stars back when it released in March. So it's not that we don't love Kratos for his impact on the gaming scene and simply being the most lovable mass murderer this side of the Joker. The fact is though, our rating on GoW2 was four and a half stars. Four and a half. There's a half star missing from that score that we ever so desperately want to see God of War 3 (or God of War III) achieve. We discerning reviewers at CB Games have never before given out a five star score, and we really want to see Kratos take the honors.
Back in March, we reported that David Jaffe, creator of both God of War and Twisted Metal, had (possibly drunkenly) admitted at the Playboy Mansion that he had begun the design process for God of War 3. Since then, mum has been the word from Jaffe's camp and we can only assume that if they haven't formally made any announcements about the game, that the design process is still going on. We're a set of fine fellows over here, and we decided that it was cruel to make Jaffe go it alone on this one, so it was decided that we would issue a list of things that absolutely must be in God of War 3 in order to assist one of this industry's great designers.
No More Quick Time Kills This was something that Jaffe has used extensively in the past two games, and for all we know even invented. The past games were lauded for using these "mini-games" to create the experience of a truly cinematic kill. This was a great method in the past, but now it's time to let it die. The fact is, that while those events were cool to watch, pressing X, O, X, Half-circle-joystick-motion has absolutely bollocks to do with the experience of stabbing dragging a Cyclops to the ground and stabbing him in the eye. Like I said, it was fine before, but now God of War needs to find some new territory with which to make our jaws drop. You won us over with a keen eye for cinematic gameplay, but now show us you're not a one-trick pony.
Give The Reins Back To Jaffe Sorry Cory Balrog. God of War 2 was great, and I'm sure it was in large part due to you, but this is Jaffe country. God of War 2 just felt at all times, like it was trying so hard not to fail the original, and while it didn't fail by any standards it also tread absolutely no new ground (re: the grappling hook was worthless and doesn't warrant being discussed). Balrog's timidity was something that harmed God of War 2, and let me tell you: no one in this industry has ever accused David Jaffe of being timid. The next installment has to truly be amazing to gamers or else the series risks becoming stagnant. It has to be amazing, but also new and exciting. Those of us in the gaming industry, alongside every other gamer, always expect a new and improved game when a series jumps to brand new hardware, and there's nothing wrong with that. With new tools and hardware to exploit, developers should be expected to take the experience to the next level. I don't believe that Cory Balrog is the one to do that.
Less Of A Focus On Graphics The last two God of War games have been extremely beautiful works of art, but I believe the time of necessity for a fantastic graphical showing has passed and is no longer necessary. Both pushed what was believed to be the limit of the PS2 at their time, but to be perfectly frank, graphics are little more than a marketing tool. Games are often made to look beautiful to cover up a lack of depth in game play so that they still sell well. God of War does not need this. The brand name alone will be enough to catapult this game into the platinum realm; so I would love to see the development team spend a lot more time and money working out the kinks in gameplay and making sure it's as fun as possible rather than pushing the graphical envelope.
This is only the beginning, we've got plenty of ideas on how to help God of War survive well into the next generation and we plan on voicing every one of them. While today was a very macro approach and talking a lot about overarching ideas and generalities, in the future we'll get down to the nitty gritty and discuss glorious detail.
Before presenting the next part in this series of God of War 3 improvements, we would like to know what you, the reader, feel should be added (or removed) from the next God of War installment. Feel free to voice your opinion below.
Your Daily Blend of Entertainment News
Thank you for signing up to CinemaBlend. You will receive a verification email shortly.
There was a problem. Please refresh the page and try again.