Call Of Duty: Black Ops 2 Revolution DLC Details Leaked By Amazon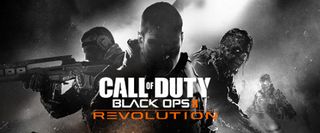 Another day, another leak regarding Call of Duty: Black Ops 2's Revolution Map Pack. Today Amazon accidentally revealed information on each of the DLC's new maps as well as its new weapon.
The Revolution Map Pack made its first appearance in a leaked retailer ad. The ad revealed that the DLC contains five maps: Hydro, Downhill, Grind, Mirage and Die Rise. Die Rise is for the zombie co-op mode while the other four are standard multiplayer maps. Here are the descriptions of each from Amazon, via OXM UK:
Also included in the Revolution DLC is a new weapon, the Peacekeeper SMG. Amazon's listing states that this sub-machine gun "fills the open weapon slot in your load-out with power and accuracy." Still no mention of whether you need to earn this new weapon or it will be immediately unlocked when you download the DLC.
The Revolution Map Pack's release date is supposedly January 29th. That date only applies to Xbox 360, though. As usual for Call of Duty DLC, PS3 and PC users will probably have to wait an extra month or more.
Staff Writer at CinemaBlend.
Your Daily Blend of Entertainment News
Thank you for signing up to CinemaBlend. You will receive a verification email shortly.
There was a problem. Please refresh the page and try again.