Call Of Duty: Black Ops 2 Vengeance DLC Released On Xbox 360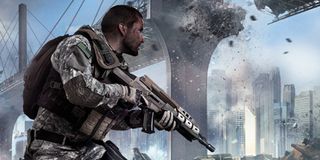 Vengeance, the third map pack for Call of Duty: Black Ops 2, has debuted through Xbox Live today. The DLC is a timed exclusive for the Xbox 360 for at least a month due to a partnership between Microsoft and Activision.
The Vengeance Map Pack introduces a new zombie mode map called "Buried." This map is set in an abandoned Old West mining town. If that's not a colorful enough setting for you, note that the town is underground too. As players face off against zombies, they'll encounter both new and old characters.
As they face off against these undead hordes, players will have a new Wonder Weapon at their disposal. The Ray Gun Mark II is a powerful energy weapon with a high rate of fire. You can catch a glimpse of it in the "Buried" trailer below. The ray gun will be available for use in all of Black Ops 2's zombie maps.
If you're underwhelmed by the game's zombie mode like me, note that the DLC still has something to offer you. It provides four new maps for the other online modes. Here's a run-down of each of the new locations:
The Vengeance Map Pack is $15 to download unless you sprang for the Season Pass.
Image 1 of 5