Call Of Duty: Black Ops 3 Beta Now Available To All PC And Xbox One Gamers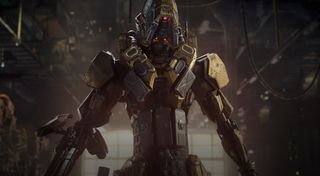 Treyarch and Activision have announced that the beta for Call of Duty: Black Ops 3 has gone open and now all PC, PS4 and Xbox One gamers can get in on the action. The beta has a new map added, a new level cap of 34 and a new specialist to play.
Blues noted that the beta for Call of Duty: Black Ops 3 is heading into its final weekend, so gamers who wanted to try the beta out will likely want to do so now before the game begins prepping for the November launch.
The beta contains a number of different modes, maps and specialists to play, including the new Experimental War Robot, which was just recently added to the beta. Some of the other specialists include characters who utilize active camo, or a character who can activate psychosis to project the image of clones to enemies, or a character who can instantly heal and recover from near-death.
There are a ton of modes to play in the Call of Duty: Black Ops 3 beta as well, including the recently added Uplink mode where you have to send a satellite signal through an enemy's base. Other modes include the tried and true Team Deathmatch, the classics Domination and Demolition modes, the old-school Capture The Flag, the Call of Duty favorite Search & Destroy, and some new modes like Hardpoint and Kill Confirmed.
The Black Ops 3 beta also features four playable maps a number of weapons for players to mess around with. The one feature that hasn't really been promoted all that much but could actually help breathe a bit of new life into the game is the all new weapon paintshop.
If you're thinking that the weapon paintshop is what you think it is, you're right on target. The mode allows players to modify up to 64 different layers on a gun. It's possible to add signature designs and custom liveries to your weapons and you can share them with the rest of the Call of Duty community. I do wonder if they will police and curate designs? Because I imagine that there will be plenty of gun designs that will crossover into the X-rated territory if people are allowed to do what they want. Heck, with the custom layers in APB: Reloaded there are all sorts of phallic imagery scattered all over the place – on billboards, vehicles and characters.
Treyarch is taking in a lot of feedback throughout the beta for Black Ops 3 and they're hoping to ensure that everything goes smooth as butter when it's time to launch this November for the old-gen and current-gen consoles.
So far, there haven't been any major developments coming out of the beta where people have noted anything strangely out of the ordinary. I think the bigger news story is that Call of Duty just hasn't been as promoted this year as it has in years past. The upcoming title seems be running on a mellowed out hype train that's just kind of huffing and puffing along but not really blowing full steam ahead, especially in comparison to the kind of hype that Call of Duty: Advanced Warfare had going for it.
Anyway, get in on the beta while the getting is good because this is the final weekend.
Staff Writer at CinemaBlend.
Your Daily Blend of Entertainment News
Thank you for signing up to CinemaBlend. You will receive a verification email shortly.
There was a problem. Please refresh the page and try again.