Call Of Duty: Black Ops Finally Coming To Mac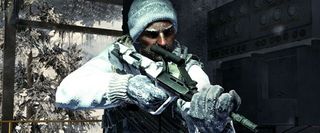 This fall, the PC, PS3, Xbox 360 and Wii U will receive Call of Duty: Black Ops 2. Mac gamers, meanwhile, will finally get the first Black Ops.
The port is being handled by Aspyr Media. The company's done extensive work with the series in the past. They were responsible for the Mac ports of Call of Duty, COD 2, and COD 4. All of these games are 50% cheaper on Aspyr's website this week to celebrate today's announcement.
Black Ops takes place during the Cold War. Players take on the role of an elite soldier fighting in hotspots across the world. The game's bizarre and thrilling campaign is supplemented by the usual raft of COD multiplayer modes. The multiplayer has been enhanced with new Wager Match modes and off-line training with A.I. opponents. The popular zombie co-op mode from World at War makes a return as well.
There's no mention of any new or revised features in the Mac platform. I wouldn't expect any. When you wait two years to port a game, you're implying that the platform in question isn't a very high priority. Hopefully they at least include cross-platform play through Steam so PC and Mac gamers can fight alongside each other in multiplayer.
The release date and system requirements for the new port haven't been announced yet.
Your Daily Blend of Entertainment News
Staff Writer at CinemaBlend.