Call Of Duty: Black Ops Rezurrection Pack Gets PS3, PC Release Date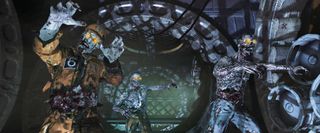 Later this month PS3 and PC gamers will have more zombies to slay. The Rezurrection Pack for Call of Duty: Black Ops will arrive on September 22nd.
The Rezurrection Pack introduces a new zombie co-op map called Moon. Players battle the undead in and around a lunar base. Fortunately they'll have high-tech weapons and equipment at their disposal. Rezurrection also includes remakes of the four zombie maps from World at War: "Nacht der Untoten," "Verruckt," "Shi No Numa," and "Der Riese."
The remade WaW maps were previously exclusive to gamers who purchased the Prestige or Hardened Editions of Black Ops. Those players will be able to download the rest of Rezurrection's content - "Moon," an enhanced Zombies soundtrack, and a new Moon theme - for no charge. Everyone else will have to pay $14.99 for the new content.
Treyarch will celebrate the release of Rezurrection on the PS3 and PC with a double XP event. Experience gains will be doubled in multiplayer from September 23rd to the 25th.
Staff Writer at CinemaBlend.
Your Daily Blend of Entertainment News
Thank you for signing up to CinemaBlend. You will receive a verification email shortly.
There was a problem. Please refresh the page and try again.