Call Of Duty: Ghosts Onslaught DLC Release Date, Maps Revealed?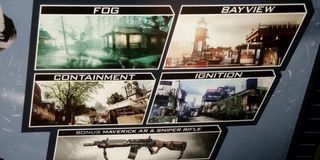 Update: Activision has officially announced with Onslaught Map Pack with a gameplay trailer.
Original article: The first Call of Duty: Ghosts map pack will launch later this month on Xbox One and Xbox 360, according to a retailer sign. The sign also gave a rundown on the maps included with this Onslaught Map Pack.
The GameStop display, leaked on Twitter, says that Onslaught will add four maps to competitive multiplayer. Bayview is set in a coastal town with a lighthouse. Ignition is set in an industrial area. Fog and Containment take the action to more rustic locations. If those descriptions sound vague, it's because the thumbnails for each map are a bit tough to make out.
Onslaught, like some of the DLC packs for Black Ops 2, will give players a new weapon as well. The Maverick AR & Sniper Rifle gives marksman another option for their - okay, yeah, I'm bullshitting again. I can't tell a thing about it from the picture. If Black Ops 2 DLC weapons were any indication, the Maverick will be unlocked as soon as you download Onslaught.
The Onslaught Map Pack also provides new content for Extinction. Extinction is a survival mode in which four players fight off waves of aliens. The DLC adds a new episode for the mode called Nightfall. You might have noticed that Nightfall is called "Episode 1." Additional chapters will be released through future DLC.
The DLC will hit Xbox 360 and Xbox One on January 28th. Thanks to an agreement between Microsoft and Activision, Call of Duty arrives on Xbox platforms first. PS4, PS3 and PC players will have to wait at least a month for the content.
The $49.99 Season Pass for Ghosts provides you with access to the Onslaught, Devastation, Invasion and Nemesis packs as they're released. Each provides new maps, weapons and Extinction content. The Season Pass also provides you with the FreeFall map and new customization options for your multiplayer avatar.
If you bought the Season Pass for a current-gen console, you can transfer the DLC to a next-gen console for no charge. This freebie has its limits, unfortunately. You have to buy the Season Pass before May 31st in order to get the content on current-gen and next-gen. Also, you need to stick with the same brand of console. In other words, you have to upgrade from Xbox 360 to Xbox One or PS3 to PS4.
Image 1 of 2