Call Of Duty: Ghosts Poster Leaked, Announcement Tomorrow?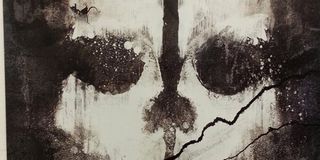 Call of Duty: Ghosts, the possible next entry in the military shooter series, has re-emerged today. Photos of a double-sided poster from GameStop leaked to the Internet today, lending credibility to earlier reports.
One side of the poster shows a graffiti drawing of a skull. The phrase, "We are all we've got" is scrawled beneath it. The skull drawing is similar to the mysterious image on the official Call of Duty website.
The other side of the poster shows a soldier pulling a mask over his head. It's the same image seen in the box art briefly listed by a retailer last week.
The poster, sent to GameTrailers by a reader, is apparently a pre-order bonus for the game. They've been distributed to various GameStop locations along with other marketing materials. These materials are slated to be posted on May 1st, which suggests that's when Activision will announce the game.
The retailer listings from last week, along with this poster, mentions a November 5th release date. That sounds plausible, given Activision's preference for launching new COD games in early November.
A rumor from last fall suggested that the next COD will continue the storyline from the Modern Warfare trilogy.
Staff Writer at CinemaBlend.
Your Daily Blend of Entertainment News
Thank you for signing up to CinemaBlend. You will receive a verification email shortly.
There was a problem. Please refresh the page and try again.