Call Of Duty: Modern Warfare 3 Gunnar Optiks Announced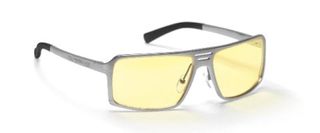 Gunnar and Activision have joined forces for yet another cross-branded merchandise deal for the ever-so-popular Call of Duty franchise. The newest item to feature the Call of Duty logo is the Gunnar Optiks Call of Duty: Modern Warfare 3 glasses.
Rob Aarnes, president of GUNNAR Optiks commented in the press release, saying…
Well isn't that what every core gamer wants? To play a fun game and look badass while doing so? However, there's more to it than just looking like you're ready to drop into Afghanistan and open up a can on some people just trying to defend their homeland, there's also the visual advantage that Aarnes mentions. Gunnar Optiks features enhanced visual clarity and optical precision for the wearer, allowing for gamers to see better and for longer periods of time when putting your eyes under a lot of duress from those long hours of gaming.
You can look for the Call of Duty: Modern Warfare 3 Gunnar Optiks to become available for the retail price of $99, exclusively at Best Buy. Pre-orders are also available at BestBuy.com, as more details will emerge at a later time for the specific release date of the new optical glasses. Need more info? Feel free to visit the Official Website.
Key features of GUNNAR Optiks Advance Gaming Eyewear:
• Amber Tint - Specially formulated lens tint conditions and shifts the color spectrum to provide superior contrast, detail and resolution
• Minimizes Eye Fatigue - Lens geometry and tint reduces visual stress and dry eyes
• Reduces Glare - Lens coatings and material reduces glare and improves visual focus
• Improves Focus - Amber lens tint and geometry help your eyes focus more naturally improving comfort and protecting against fatigue
• Sharpens Detail - i-AMP lens technology enhances detail for sharper, clearer vision
• Fit - Lightweight frame, extended coverage, adjustable nose pads, and custom spring hinges
• 20/20 Ready - Out of the box solution for 20/20 or 20/20 corrected vision
• Rx Compatible - Custom Prescriptions are available through GUNNAR's prescription program with Carl Zeiss Vision across approximately 15,000 eye care providers nationwide.
Your Daily Blend of Entertainment News
Staff Writer at CinemaBlend.